Speeches are for politicians, Hall of Fame inductees ... and Kansas University men's basketball players on Senior Day.
Jayhawk seniors Luke Axtell, Eric Chenowith and Kenny Gregory will grab the microphone and speak to 16,300 fans shortly after today's Kansas-Missouri game. Tipoff is 1:05 p.m. at Allen Fieldhouse.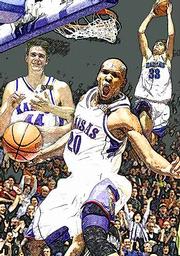 "I will not write anything down. It's whatever comes to mind. I will go with my heart basically," Gregory said. "There will not be anything scripted. I look back at past Senior Days, picturing guys giving their speeches. I have not yet thought about myself being up there. It'll be a weird experience to see how I react giving all the 'thank-you's,''' the 6-foot-5 guard from Columbus, Ohio, added.
Parents of Gregory, Chenowith and Axtell will be introduced before the game amid a shower of flowers descending from the stands.
"It's not really a distraction for me. I don't look at it that way," Gregory said of pregame and postgame fanfare. "You still have to focus at the task at hand, trying to get a victory against a great team (MU is 18-10, 9-6; KU is 22-5, 11-4). It's a matter of the seniors getting themselves focused and ready to play, then making sure everybody else is ready to play, too.
"You never want to go out a loser on Senior Day."
The Jayhawks have won 17 straight games on Senior Day. Winning has become as big a tradition as the flower shower.
"I expect Luke and Kenny to cry and us to win the game hopefully," Chenowith said.
"You won't see me cry or anything like that," Gregory said, noting he's more surprised than emotional his home career is about to end. "The first year or two you may take it for granted. You figure you have a lot of time left. You look up and it's over with. I never thought my Senior Day would be here so fast."
He was asked to pinpoint some career highlights.
"A couple things stick out: The three victories we had over Ohio State were big for me, especially the one this year in Columbus," Gregory said of a 69-68 win over OSU on Dec. 23 in his hometown.
"My first college game against Santa Clara my freshman year ... I was nervous. I didn't play all that well, but something I'll always remember is my first college game. It is something that sticks out," Gregory said.
He scored six points with three rebounds while playing 23 minutes in his debut a 99-73 victory over Santa Clara at Allen Fieldhouse. His fans likely do not remember that game. They do recall many of his trademark slam dunks.
"I'd say my best dunk was last year against Princeton," Gregory said. "Nick Bradford threw me a lob. It was a terrible pass. I just went up and got it. Since I've been here, it's really the one that sticks out."
He arrived his freshman year with a reputation as a crowd-pleasing dunker. He didn't disappoint at KU, despite nagging back problems.
"I like to put some down for the guys when I can," Gregory said of his teammates.
His prowess as a dunker in high school may have led to high expectations here for the player who picked KU over Clemson, Kentucky, Ohio State and others.
"I think I had a lot of expectations coming in for the wrong reasons," Gregory said. "I got MVP of the McDonald's game. Things like that showed people I could jump really high and was athletic. Overall I had a lot of things I needed to work on. People took it the wrong way and expected big things out of me immediately.
"It's one of the reasons I came to Kansas a lot wouldn't be expected of me right away. I could have stayed home at Ohio State and could have gone to a smaller school and started immediately and shot the ball every time. I wanted to come here and get away from all that. It still followed me anyway.
"I knew it'd be a gradual process for me. I just wanted to get better each year and I think that's what I've done. I'd like to be known as somebody who worked on his game each and every year and tried to get better."
He felt some pressure trying to live up to expectations ... until this year when he decided to go with the flow.
"I put pressure on myself in past. It affected my play. My senior season I went out to have fun. I thought, 'If people don't like it, sorry.'''
KU coach Roy Williams has noticed the new Gregory, who averages 16.1 points and 7.1 boards both career high marks.
"Like Eric (Chenowith), Kenny came in with a lot of expectations from other people," Williams said. "He was MVP of the McDonald's game. Some people looked at that and say, 'Wow.'
"The McDonald's game is running up and down a jumping and dunking contest. Kenny is healthier this year than he ever has been. His back has not been bothering him as much as the past. I think he's enjoying the journey, enjoying life as it goes along.
"At the same time he's still focused. He's just a little looser."
Of Gregory, sophomore forward Nick Collison said: "Kenny is a great guy. We are a little closer this year. We hang out quite a bit if I can get him away from his girlfriends.
"He is a ladies man. Whenever he gets a chance to go to movies or dinner, I think he does that," Collison laughed. "He's a great player and has done a great job his senior year for this team."
Gregory he's hoping for a Final Four bid and national title in his final go-round says he has no regrets leaving Ohio for KU.
"None," he said. "If I were talking to somebody who is coming here (out of high school), I'd tell them to be ready to work. You will learn from one of the best (coaches). You get great advice offensively and defensively. You must be ready for the day-to-day battles. It takes a lot of preparation building up for games at Kansas. It's fun to play here. People are behind you. The games are always sold out regardless of who we are playing, how we are playing or the weather. The support is great.
"I'll miss it all, but I am not saying this will be a sad day. In the past, some seniors may have seen it as something sad playing their last game in the fieldhouse. I see it not as an ending. I'm just moving on."
Copyright 2018 The Lawrence Journal-World. All rights reserved. This material may not be published, broadcast, rewritten or redistributed. We strive to uphold our values for every story published.