Adam Mansfield's campaign for Lawrence City Commission appeared nearly dead Tuesday night. Friday morning, it got new life.
Douglas County election officials certified that Mansfield won the race to be the sixth commission candidate to advance to the April 3 general election.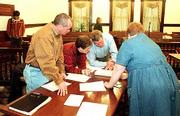 Friday's canvassing decision ended a roller-coaster week in which Mansfield appeared to be among the primary election's losers. Now he joins Sue Hack, Marty Kennedy, Erv Hodges, David Dunfield and Scott Bailey in advancing. Kennedy Hodges and Dunfield are incumbents.
"I've learned a lot about the process," Mansfield said Friday morning after watching the final counting of provisional ballots.
Vote-counters said Tuesday night Mansfield lost sixth place to Jennifer Chaffee by 10 votes, 570 to 560. Officials cautioned late Tuesday that counting of provisional ballots remained and could change the outcome.
But there was another twist even before the provisional ballots were tallied: An accidental double count of advance-voting ballots.
After an adjustment for the double count was made Wednesday, Mansfield claimed a one-vote edge, 522 to 521.
Friday morning, both Mansfield and Chaffee were on hand to watch officials make a final decision on the fate of the provisional ballots, ready to end the suspense.
"I'm so tired of being called Al Gore," Chaffee said.
The 75 provisional ballots were set aside during Tuesday night's count of primary election votes because of questions about their eligibility. Officials decided Friday to discard 15 votes that didn't meet requirements, but counted 60 remaining ballots from across the county including 35 from Lawrence precincts that were determined to be proper.
From those ballots, Mansfield picked up 14 votes; Chaffee gained six. That gave Mansfield an overall lead of 536 to 527, a margin of nine votes.
Chaffee was good-natured about the loss. Her campaign has been fodder for her political science classes at Kansas University, where she is a senior.
"We talk about theory constantly, but this is so much different," she said. "It showed people that their vote does make a difference."
Mansfield won his spot on the April ballot by spending $180 on campaign buttons. He said Friday he would step up his efforts, although he doesn't plan to collect more than $500 in contributions.
He said he would put out a few yard signs and try to generate more free media coverage of his campaign in an effort to spread his message of fewer tax abatements and more recycling.
The top three vote-getters in April will take seats on the commission. Based on this week's results, Mansfield would have to quintuple the number of votes he receives to have a chance at the third position. To catch Bailey, the fifth-place finisher, Mansfield would have to nearly triple his vote count from the primary.
"There's a big difference," he said, "between the top few candidates and the bottom."
Copyright 2018 The Lawrence Journal-World. All rights reserved. This material may not be published, broadcast, rewritten or redistributed. We strive to uphold our values for every story published.