Music teachers Gretchen Lehman and Pamela Bushouse were invited Friday to school assemblies, but neither knew they were the guests of honor.
Led to believe students at Kennedy School were gathering for a routine talk about social skills, Lehman was stunned by announcement of her selection as the Lawrence district's 2001 elementary teacher of the year.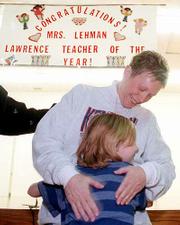 "I'm very honored and humbled," she said after accepting flowers, a cake and a banner honoring her achievement.
Bushouse was equally surprised during a Free State High School assembly when she was named the district's secondary teacher of the year.
"No way!" Bushouse said. "There are so many fabulous teachers in this city. I'm usually not speechless, but this time I am."
Both recipients will be nominated for state teacher of the year.
Lehman has taught 29 years, including 23 years in Lawrence public schools. She is a full-time music teacher at Kennedy, 1605 Davis Road. During the years, she also honed the music skills of children at Sunset Hill, Wakarusa Valley, East Heights and Grant schools.
"Mrs. Lehman has taught me a lot," said fourth-grader Meglin Rego. "She taught me to show a talent of mine. Mrs. Lehman is a wonderful person. I love her."
Bushouse, choral music director at Free State, began her career in music education 26 years ago and has been in Lawrence schools for 24 years. She also has taught at West Junior High School, Lawrence High School and five elementary schools Hillcrest, India, Kaw Valley, Riverside and Pinckney.
Joe Snyder, principal at Free State, said students often say Bushouse is their best teacher.
"Her primary strength as a teacher stems from her seemingly endless energy and interest in students, their welfare and their success," he said.
Last year, the district's teachers of the year were Jan Dicker of Grant School, who became a state finalist for elementary teacher of the year, and Judi Wolfe of Free State.
Nominations for the awards are made by students, parents and educators. Former Lawrence teachers of the year make the final selections.
Lehman said it was important for the community to take a moment to honor educators.
"I do think it's important for kids to see people strive for things and see that work pays off," she said.
Copyright 2018 The Lawrence Journal-World. All rights reserved. This material may not be published, broadcast, rewritten or redistributed. We strive to uphold our values for every story published.