OLYMPIA, WASH. — State lawmakers, who are already wrestling with major financial headaches, now must come up with millions of dollars to fix the damage caused by this week's earthquake as soon as they find a place to work.
Two cracks were visible in the Capitol dome, and all 20 office buildings in the complex remained closed for inspection and cleanup. All but the Capitol have been cleared for occupancy, but business as usual won't resume until Monday.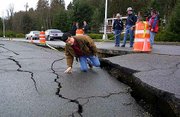 Lt. Gov. Brad Owen, who usually wears Armani, was in pressed blue jeans, a denim shirt and tie no jacket. He called it "dress-down Friday," and most senators were in clean-out-the-garage attire.
For now, the plan is to hold legislative hearings next week in buildings a block away from the Capitol. Engineers are expected to spend the weekend determining when it will be safe to use the 1928 Capitol.
Some of the worst damage from Wednesday's magnitude-6.8 quake was in Olympia, 11 miles from the epicenter. While Seattle and other areas escaped major damage, piles of rubble still blocked downtown sidewalks here Friday. Major buildings remained shuttered and buckled roads were blocked off.
The larger problem may be paying for damage estimated at more than $2 billion. Gov. Gary Locke and lawmakers are already stymied by a state spending limit, a budget shortfall in the hundreds of millions and the need to make $10 billion in highway improvements.
The state insurance commissioner, flooded with inquiries about coverage for quake damage, was back at work Friday as was Locke's budget agency.
"We don't know the cost to the state, except that it will be in the millions of dollars," budget office spokesman Hal Spencer said. "We don't know how much aid we will get from Uncle Sam at this point." The Bush administration on Thursday issued a disaster declaration that makes aid available.
Across the region Friday, all major roads were open and operations at Seattle-Tacoma International Airport were 75 percent of normal. Air traffic controllers have been working in a trailer since the quake broke most of the glass in their tower.
They will be moved soon, probably this weekend, to a nearby hillside and set about 80 feet atop stacked shipping containers to give them a better view. The temporary digs will be used for six or eight weeks.
The tally of injuries had climbed to 410 by Friday, but most were minor, said Rob Harper, a state emergency spokesman.
There is also fear of landslides on quake-weakened hillsides. In Burien, south of Seattle, city officials red-tagged more than a dozen homes. Driveways for some of the homes had pulled away from the road, leaving a gap of about a foot.
Copyright 2017 The Associated Press. All rights reserved. This material may not be published, broadcast, rewritten or redistributed. We strive to uphold our values for every story published.