Douglas County residents are receiving new property valuation notices, and for some it could mean a hard hit in the pocketbook.
Lawrence landlord Bob Moody said he was shocked that the values on his five rental properties in North Lawrence increased from 21 percent to 64 percent. Valuation is part of the formula in determining annual property taxes.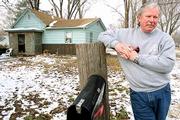 "They had indicated the highest increases would be in East and North Lawrence, so I was prepared for some increase, but never in my life would I have been prepared for a nearly 65 percent increase," Moody said Friday.
Moody, a former Lawrence mayor, said he has owned the houses for several years and never seen anything close to a 21 percent increase, let alone 64 percent.
Earlier this month, County Appraiser Marion Johnson said property owners in North and East Lawrence would see the highest valuation increases because of higher demand for houses in price ranges affordable to first-time homebuyers. Valuation increases in those areas were expected to range from 15 percent to 20 percent.
But Karen McGaughy, who lives in a 15-year-old townhouse in western Lawrence, said her valuation jumped 19 percent this year.
"They're making it harder every year to afford the taxes," she said. "I am furious. I'm ready to pack my bags and leave."
Residential property countywide went up an average of 8 percent, about the same as last year. The average increase was 6 percent in 1999, Johnson said.
When valuations are figured, Johnson said his staff reviews selling prices of similar properties in the area. He said there were various reasons for big increases. For example, people who didn't see changes last year might get them this year.
"If someone goes a year without a value increase, then people could see a 16 to 20 percent increase this year," he said.
Johnson said his staff used five comparison sales for each valuation, and that people may request the same comparison sheet through his office to evaluate the prices themselves. He said the information was not included with the valuation notices because the county does not have the necessary software to do so. Last year, Johnson County was the first county to start including comparisons on the actual notice.
Moody said he might protest his valuations using the appeal process, if he can find information to support his claim.
"If these (appraisals) hold true, I have no option but to increase rent. I can't take a wallop like this," he said.
Moody said the rule of thumb is to charge 1 percent of the value of the house for monthly rent. If he did, then he should be charging $1,000 or more for rent instead of $425 to $525.
"I can't in good conscience charge that," he said. "I need to know how they came to a 65 percent increase. It's hard to for me to act rationally when I have an irrational valuation."
Copyright 2018 The Lawrence Journal-World. All rights reserved. This material may not be published, broadcast, rewritten or redistributed. We strive to uphold our values for every story published.