Beverly Hils, Calif. — Julia Roberts is playing it cool.
Roberts, 33, who's nominated for an Oscar for "Erin Brockovich," bopped into our suite to discuss her new movie, "The Mexican," appearing rather ill at ease. Her responses were as flat as those of a woman waiting on someone to bring her a latte with steamed soy milk, which she was.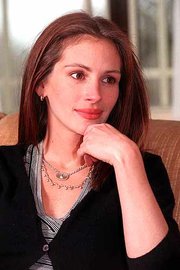 "This will go much better now," she said, as she took a sip of the drink.
And it did. Although the Smyrna, Ga., native didn't address the current crop of rumors, her responses to the questions she did answer were increasingly accompanied by that impossibly toothy trademark smile. And even though she often referred to the press as "you people," her rare, but lethal combination of Southern charm and Tinseltown savvy came through.
Much of the discussion revolved around the nomination. Vegas says she'll win the Oscar for best actress at the end of this month. Most Hollywood insiders say she's a shoo-in, despite a tough race against Joan Allen, Ellen Burstyn, Laura Linney and Juliette Binoche.
But Miss Julia played it cool when discussing the Big O. For her, it's about being blessed and not stressed.
One sip at a time.
"You'd be amazed at how little awareness I've had and continue to have about that which they say about me one way or the other," Roberts said. "It is what it is a happy, wonderful thing, and I'm thrilled to bits. I'm in a no-stress zone. I don't understand stress for this stuff. I mean it's a happy time, and something I love is being recognized."
Perhaps more to the point, Roberts also said she loved playing opposite Brad Pitt in one of the most hyped celluloid pairings of the year, "The Mexican."
Although Pitt and Roberts have known each other for 18 years, this is the first film they've appeared in together. Both Pitt and Roberts, who commands $20 million a picture, took huge salary cuts to make this $35 million comedy, which was shot in LA, Las Vegas and a remote town in northern Mexico called Real de Catorce. Despite working for what might be considered minimum wage in her tax bracket, dodging scorpions and other such critters south of the border, enduring the too-bright lights of Vegas, and spending time away from her dogs and her sweetie, Roberts said working with Pitt made it worthwhile.
"I guess I was surprised that every day I just liked him more," Roberts said. "I've always liked him, but to like and respect him a little bit more every day so surpassed my wildest dreams of what the experience of him on a day-to-day level would be like. He's a helluva guy."
It appears that Pitt had a good time, too.
"It was the right chemistry," Pitt says. "She's so charming and witty. I loved the idea of putting us into this lone-gun movie."
Such praise doesn't appear to faze Roberts. Perhaps it's because she really has nothing left to prove. Last year, a film industry survey proclaimed her the most powerful star in Hollywood. Her 25 feature films have grossed more than $2 billion worldwide. Her box-office magic is likely to continue after she completes her newest projects "America's Sweethearts" with Catherine Zeta-Jones and John Cusack and the remake of "Ocean's 11" with George Clooney, Andy Garcia, Don Cheadle and Pitt.
Her greatest challenge seems to be topping herself.
"I just want to play the good parts that come my way," she said. "If I'm trying to avoid anything it's repeating myself."
Perhaps that's why she has no regrets not even for turning down the lead in "Shakespeare in Love," a role that won Gwyneth Paltrow an Oscar. "I've never turned down something and thought 'I wish I had done that' after I saw it. I can go and see something that I've turned down, and it was done quite beautifully, and I can appreciate that separate from the thought that I should have been in there."
She won't even be bummed out if the Vegas oddsmakers are wrong.
"They can give (the Oscar) to whomever they choose," Roberts said bluntly. "No preference. I don't know that it's important for me (to win) per se. I mean, certainly the possibility is exciting to any actor because outwardly outside of the home it's the greatest recognition that an actor can hope for."
But it appeared that for her, winning the most prestigious award in her so-far brilliant career might rank just below that first cup of coffee in the morning. One sip and all seems right in Miss Julia's world.
Copyright 2018 The Lawrence Journal-World. All rights reserved. This material may not be published, broadcast, rewritten or redistributed. We strive to uphold our values for every story published.