Los Angeles — It was 10 years ago today that Rodney King was beaten in what became an enduring symbol of police brutality and a flashpoint for racial tensions.
It also proved to be the first in a series of blows that have shattered the reputation of the Los Angeles Police Department. The video, made by an onlooker, shocked the public and led Police Chief Daryl Gates to condemn the officers' actions.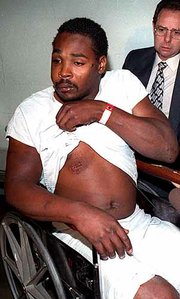 But that was just the beginning. There would be three trials one of them ending in the conviction of two officers and the worst race riot Los Angeles had ever seen. When the smoke cleared on May 2, 1992, 55 people were dead and 2,383 were injured. Damage was put at $1 billion.
Gates was driven from the LAPD. Commissions were empaneled and made wide-ranging recommendations for reform.
Yet in the years to come, reform efforts would be overshadowed by events that would further damage the police force whose reputation for integrity and excellence was burnished by TV shows like "Dragnet" and "Adam-12."
The King beating was followed by criticism of how police handled the 1992 riots and later the O.J. Simpson case. And now, the department is struggling with a corruption scandal in its Rampart division that has led to more than 100 convictions being overturned.
"Rodney King was about police abuse, O.J. was about police incompetence, and Rampart is about police corruption. That's a pretty grim picture for the LAPD," said Laurie Levenson, a Loyola University Law School professor. "What Rodney King taught us is you can't ignore the problems and hope they will go away."
Dist. Atty. Steve Cooley, who was elected in November and whose office is prosecuting the Rampart corruption cases, said morale on the LAPD has been devastated.
"People who worked all their lives for this department are leaving," he said. "Right now they're in the hurt locker. Healing takes a long time. Law enforcement needs esprit de corps and pride. Something will have to happen to make them proud again. Maybe it will be some effective reforms."
Copyright 2017 The Associated Press. All rights reserved. This material may not be published, broadcast, rewritten or redistributed. We strive to uphold our values for every story published.