London — Dublin canceled its St. Patrick's Day parade Friday and Dolly the cloned sheep was put under protective quarantine as European health authorities stepped up efforts to contain a potentially disastrous outbreak of foot-and-mouth disease among farm animals in Britain.
Because the virus spreads easily on shoes, clothing, tires and food, the main goal of the untouched nations was to stop anybody or anything from Britain that might bring it in. The Dublin parade was canceled out of fear that visitors from Britain would transport the virus.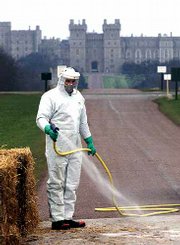 At airports and other ports of entry all over Europe, passengers arriving from Britain are forced to walk through shallow tubs or across mats of disinfectant to kill any virus that could be clinging to shoes.
French airports are treating the remains of meals from British flights like poison, isolating the trays and incinerating them before they get to the terminal.
It remained unclear Friday how long the restrictions would be in place; they won't end until authorities conclude they have been effective. Britain suffered its last outbreak in 1981. The United States hasn't had the disease since 1929.
Close to 1,000 police and soldiers stood guard Friday at checkpoints on the hilly border between Northern Ireland, a British province, and the Republic of Ireland to prevent any movement of animals from north to south. Traffic at border crossings was jammed as vehicles were checked and shoes and tires disinfected.
Irish authorities were reported to have established exclusion zones around two meat-processing plants and at least four farms that allegedly received sheep smuggled from England.
In Britain, hundreds of sporting events have been canceled for fear that visiting fans might spread the virus. All over Britain, zoos, parks and wildfowl preserves have been closed to the public. In Scotland, the Roslin Institute cut off public visits to Dolly the sheep, the first cloned mammal.
Copyright 2018 The Lawrence Journal-World. All rights reserved. This material may not be published, broadcast, rewritten or redistributed. We strive to uphold our values for every story published.