Ottawa — A 23-year-old man was ordered Friday to stand trial for first-degree murder in the beating death last fall of an 86-year-old woman.
Raymond Eugene Fuller shook his head, silently rejecting the assertions of Kansas Assistant Atty. Gen. John Bork, who argued Fuller did nothing to stop the assault on an elderly Franklin County couple.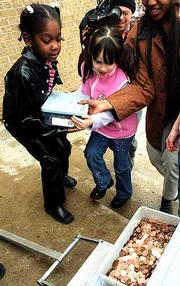 "I submit that when you hit an elderly man with a shovel and you hit a defenseless woman, that is premeditated murder," Bork said during Fuller's preliminary hearing in Franklin County District Court. "Even if we accept his account ... he is involved from the beginning to the end."
Fuller's defense, according to his attorney, Bryan Hastert, is grounded in his claims that Fuller wasn't aware that his friend, Joseph Andrew Hayden, was about to beat the couple.
"The state didn't prove Fuller knew what Hayden had planned," Hastert said. "You have to have knowledge of what will happen specifically. ... They failed to link my client to any criminal act."
Both Fuller and Hayden, who turned themselves in a week after the Nov. 1 attack, remained in the Franklin County Jail in lieu of $1 million bond each. They both will be arraigned Monday, when they will enter their pleas and trial dates will be scheduled.
They face one count each of first-degree murder, attempted first-degree murder and aggravated burglary. They are accused of breaking into the home of Howard and Vivian Johnson and beating them with a shovel.
At Friday's hearing, paramedics testified that they found Howard Johnson, 84, sitting in a chair in the living room. They said they noticed that he had a head wound and was bleeding.
The paramedics also said they found Vivian Johnson lying partially under her bed. When they pulled her from beneath the bed, they saw she had suffered severe wounds, they said, including bruising and cuts to the left side of her head, along with a swollen eye.
She was conscious but could barely speak, paramedics said.
Franklin County Sheriff's Capt. Brad Gilges testified about interviewing Fuller. He said Fuller told him that he and Hayden had been driving around rural Franklin County, looking for a party, before the assault occurred.
Gilges recounted Fuller's statements, which indicated Hayden had beaten the Johnsons. Gilges said Fuller told him that he didn't know what to do afterward but that he attempted to convince Hayden to turn himself in to authorities.
"He (Fuller) turned himself in because he didn't think he did anything wrong," Gilges said. "What he thought he did wrong was that he could have stopped it and he didn't."
Copyright 2018 The Lawrence Journal-World. All rights reserved. This material may not be published, broadcast, rewritten or redistributed. We strive to uphold our values for every story published.