Because Clinton Lake is fast filling with silt and Lawrence is growing, the city could outstrip its water supply within 20 years, a community activist claims.
Larry Kipp, "smart growth" activist and defeated candidate for Douglas County Commission, will deliver to Lawrence city commissioners Tuesday the results of his two-year study of the water supply situation. Kipp undertook the study as part of his affiliation with Friends of Douglas County.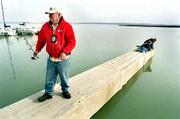 Government should act now to avert crisis later, he said.
"This is not a Chicken Little situation," Kipp said.
But state and municipal water officials say the sky is not falling. Lawrence, they say, is in good shape with its water supply, and Kipp, who has a doctorate in biology, fails to take into account other water sources in his predictions.
"There should be no concern for Lawrence or any other communities that draw water from Clinton Lake," said Hank Ernst, a spokesman for the Kansas Water Office.
Kipp's dry forecast is based on two main factors: Lawrence population growth and silting that is reducing the storage capacity of Clinton Reservoir. If both processes continue at their current rate, he said, the city's demand for water could exceed supply between 2020 and 2030.
He said government can and should act now, by dredging the lake and by tinkering with zoning and economic development policies. He also recommends other preventive steps.
"There are always those who don't want to think about problems that are way down the road," Kipp said. "They're more into crisis management."
Chris Stewart, the city's water systems engineer, said Kipp's predictions are in line with state studies but only if Clinton Reservoir is considered the city's sole water source.
That's not the case, Stewart said. "You can't get all your water from the reservoir," he said.
"We're in a good situation. We've got the Kansas River and the (groundwater sources) surrounding the Kansas River. We've also got the Perry Reservoir. Those are good places to get a long-term water supply."
Ernst said that, even with growth and silting, Lawrence's water supply is good for another 40 years.
But Kipp said the city hasn't fully tapped into those other water sources, nor has it committed money to do so. And the state's water projections, he said, are based on projections the city will grow more slowly than it has in recent decades.
KWO has failed to predict how fast the reservoir would silt, he said, and has been forced to reduce the amount of water available to cities as a result.
"I feel Kansas Water Office is, perhaps, over-optimistic," Kipp said. "In this kind of situation, it's better to be cautious than over-optimistic."
Stewart said he is properly optimistic.
"I'm glad to see we have concerned citizens," he said. "But I think we're in very good position as a city with the water supply we have surrounding us."
Copyright 2018 The Lawrence Journal-World. All rights reserved. This material may not be published, broadcast, rewritten or redistributed. We strive to uphold our values for every story published.