Seattle — The damage estimate from the Northwest earthquake climbed to $2 billion Thursday as engineers inspected bridges, buildings, dams and roads. But the region congratulated itself for escaping far worse damage.
Most people went about their lives as usual, swapping stories about close calls during the most powerful quake to hit Washington state in 52 years. Few noticed two minor aftershocks early Thursday, and no additional damage was reported.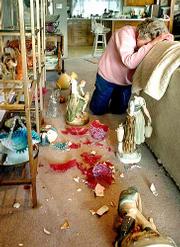 State emergency officials counted 320 injuries directly linked to Wednesday's magnitude-6.8 quake, but most were minor and none critical.
"The biggest news is there is no news," Seattle Mayor Paul Schell said. "There aren't any fatalities. The damage, while serious, is not anything like what people would have expected."
The Bush administration declared the quake a federal disaster late Thursday within hours of Gov. Gary Locke's request. The action makes available federal aid, such as low-interest loans, to rebuild.
Several homes were evacuated in a Tacoma neighborhood because of danger from mudslides.
In Olympia, the state capital south of Seattle, several streets were blocked off as crews began clearing away rubble. The Capitol complex remained closed, idling 10,000 workers, most of them until Monday, when buildings were expected to be inspected and cleaned.
Legislative leaders said they will not know until today whether the Capitol itself, with a crack behind pillars supporting its dome, can be used.
Copyright 2018 The Lawrence Journal-World. All rights reserved. This material may not be published, broadcast, rewritten or redistributed. We strive to uphold our values for every story published.