Washington — The government certified 20 of 24 countries as fully cooperating with U.S. anti-drug efforts Thursday, including close allies Mexico and Colombia despite those two nations' continuing drug-producing and trafficking status.
On Capitol Hill, meanwhile, lawmakers called for overhauling the report card process that often embarrasses U.S. allies.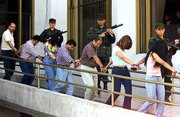 Afghanistan and Myanmar, also known as Burma, continued their long-standing "decertified" status, making them subject to economic penalties that will have no real effect because the countries are under U.S. sanctions for other reasons.
Cambodia and Haiti were decertified but received a national security waiver of economic penalties. Nigeria and Paraguay, in the same category last year as Cambodia and Haiti, moved up to fully certified.
In addition to Mexico, Colombia, Nigeria and Paraguay, the other certified countries were the Bahamas, Bolivia, Brazil, China, Dominican Republic, Ecuador, Guatemala, India, Jamaica, Laos, Pakistan, Panama, Peru, Thailand, Venezuela and Vietnam.
The certification process has been denounced in America by those who consider it counterproductive and by foreign countries embarrassed by their grades and annoyed at being judged by the world's biggest drug consuming-nation.
"Certification is more than an affront to Mexico and to other countries. It is a sham that should be denounced and canceled," Mexican President Vicente Fox said last year.
President Bush has endorsed a move in Congress to set aside the certification process and he told Fox during a Feb. 16 visit to Mexico that he would tout Fox's anti-drug efforts to U.S. lawmakers.
Copyright 2018 The Associated Press. All rights reserved. This material may not be published, broadcast, rewritten or redistributed. We strive to uphold our values for every story published.