Kabul, Afghanistan — Defying an international outcry, Taliban soldiers on Thursday began destroying all statues in Afghanistan even targeting two soaring, ancient statues of Buddha carved into the face of a mountain.
The ruling Islamic militia said they sought to purge the nation of idolatrous images, but their closest ally Pakistan said the action could be a backlash against Afghanistan's international isolation, including U.N. sanctions.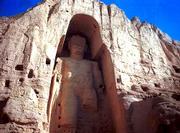 Pakistani Interior Minister Moinuddin Haider told The Associated Press the Talibans' order "may have been an act of defiance brought on by the isolation they feel."
As troops fanned out with everything from rocket launchers to tanks to destroy statues, cultural leaders worldwide expressed horror.
The head of UNESCO asked other Islamic nations to pressure the Taliban to stop, while the director of the Metropolitan Museum in New York pleaded with Afghan officials to give the artifacts to foreign museums.
"In Afghanistan, they are destroying statues that the entire world considers to be masterpieces," UNESCO Director-General Koichiro Matsuura said. "This iconoclastic determination shocks me."
"All officials, including the ministry of vice and virtue, have been given the go-ahead to destroy the statues," the Taliban's Information Minister Qadratullah Jamal said Thursday. "The destruction work will be done by any means available to them."
"All the statues all over the country will be destroyed," he said.
It was impossible to confirm what Taliban troops had destroyed so far particularly whether they had begun demolishing two huge Buddha statues carved into a cliff at Bamiyan. One of the statues is 175 feet high and dates to the 5th century; the other is 120 feet tall and dates to the 3rd century.
The road to Bamiyan, 90 miles west of Kabul, was blocked by snow Thursday. There are soldiers in Bamiyan, but journalists have not been allowed to go there. The Taliban also refused to let reporters inside the Kabul Museum, repository for thousands of Buddhist antiquities.
The Taliban's supreme leader, Mullah Mohammed Omar, ordered the destruction in an edict Monday, saying such images were contrary to Islam.
"These idols have been gods of the infidels, who worshipped them, and these are respected even now and perhaps maybe turned into gods again," his edict said.
The Taliban, who espouse a strict brand of Islamic law, rule about 95 percent of Afghanistan and have been battling northern-based opposition forces for years. Only Pakistan, Saudi Arabia and the United Arab Emirates recognize their rule.
Copyright 2018 The Associated Press. All rights reserved. This material may not be published, broadcast, rewritten or redistributed. We strive to uphold our values for every story published.