SPRINGFIELD, MO. — Breaking the NCAA scoring record brought Jackie Stiles relief more than anything else.
The satisfaction, she said, will come later.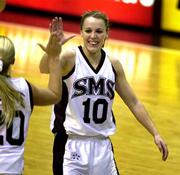 Stiles scored 30 points and became the career scoring leader in NCAA Division I women's basketball as No. 18 Southwest Missouri State beat Creighton 94-59 on Thursday night.
She increased her career total to 3,133 points, breaking the record of 3,122 that Patricia Hoskins set at Mississippi Valley State from 1985-89. The record fell when Stiles hit a 3-pointer early in the second half, giving her 3,123.
"The pressure's off," Stiles said. "Now we can just concentrate on winning basketball games. It's just a burden off my shoulders."
Stiles, who was averaging 30.8 points, needed 20 to break the record and the game drew a standing room-only crowd of 9,155 that included Missouri Gov. Bob Holden, a 1973 Southwest Missouri State graduate.
All hoped to be a part of history, and Stiles sent them home happy as Southwest Missouri State (21-5, 15-2) stayed one game behind first-place Drake in the Missouri Valley Conference race.
"I didn't know if it would ever be possible, if it would ever come true," Stiles said. "It's a credit to all the great people I'm surrounded by. I don't look at it as my record. I look at it as everybody here, SMS, the community, it's their record, too. We share it."
The electricity in the air grew with each shot that Stiles made. She whetted everyone's appetite by scoring 13 points in the first half, then wasted no time getting the record as the second half got under way.
Stiles hit a pull-up jumper at the 19:28 mark to give her 15 points, stole the ball and made a layup for 17, then knocked down the 3, the crowd rising in anticipation as the ball left her hand.
"I can never keep track in my head, but I could tell by the crowd I was getting close because they were getting louder and louder," Stiles said. "I could tell when it went that that was it."
Fans were still celebrating the record, chanting, "Jackie, Jackie, Jackie" when Stiles scored again on a jumper 34 seconds later. That made it 59-26. But by then, the score was incidental Stiles had the record and the Lady Bears were going to win.
"You could see the relief in her face," said teammate Carly Deer, Stile's roommate. "I'm glad it's over for her."
There was another chance to celebrate after the game when Stiles was given the game ball and a banner congratulating her was unfurled from the scoreboard that hangs over the court.
"There really hasn't been time for it to sink in," Stiles said. "I guess in a few years it probably will mean more. Basketball is a team game and I could have never done it without the support of my teammates and all the people who helped me along the way."
Hoskins, who lives in Greenville, Miss., was flown in by Springfield businessman John Q. Hammons and the fans gave her a standing ovation when she was introduced before the game.
"I refused to miss this moment," Hoskins said. "This is something I want to share with everybody."
Stiles is still not the all-time collegiate leader. Five players scored more than Stiles in the years before women's basketball came under the NCAA in 1982. Lynette Woodard was the leader in that era with 3,649 points at Kansas from 1977-81.
But this was Stiles' night and the fans who had embraced the 5-foot-8 guard from Claflin, Kan., throughout her career got to share a special evening with her. They cheered when she was introduced and cheered every time it looked like she was going to shoot, which actually wasn't all that often.
Stiles took only eight shots in the first half and finished 11-for-17.
Creighton coach Connie Yori said she did not think her team could go down in history along with Stiles.
"Nobody's going to remember who Mark McGwire hit his 62nd home run against," Yori said. "Nobody's going to remember who she scored her points against."
Rante made all six of her shots and finished with a career-high 14 points, all in the first half. Vicente scored 16 on 7-for-9 shooting.
"Sometimes Jackie has two people on her, so we have opportunities to score," Rante said. "So I think we need to stay ready every time."
Angela Timmons led Creighton with 15 points and Christy Neneman scored 13.
No. 16 LSU 72, Kentucky 57
Memphis, Tenn. The LSU Lady Tigers hope they finally broken the jinx of the Southeastern Conference tournament.
Marie Ferdinand scored 21 points as No. 16 LSU beat Kentucky 72-57 Thursday night for its first victory in the Southeastern Conference tournament since 1996.
How bad had it been? The Lady Tigers (19-9) reached the NCAA tournament's final eight last season and the regional semifinals the season before with no success in the SEC tournament. In seven of the past eight years, including the previous five, the Lady Tigers played one game and went home.
"You can't explain why," LSU coach Sue Gunter said. "We've been unseeded and got beat, seeded two, got beat in the first round. It's one of those things seems to happen. It's kind of fun (winning). These seniors had never won a game in the conference tournament. Finally, they broke that streak."
The LSU seniors had been 66-28 the previous three years.
Ferdinand said she and her teammates were excited about the victory and looking for an extended run.
"It's one of our goals coming in this year not just be satisfied with getting past this second round but take it all the way. I feel we have the team," Ferdinand said.
Fifth-seeded LSU, which will play No. 15 Vanderbilt on Friday night in the second round, faced an easy opponent in 12th-seeded Kentucky (6-21).
The Wildcats started three freshmen and finished their season with losses in eight of their last nine games.
Kentucky challenged LSU in the opening minutes and led 11-8 with 13:49 to go on a bucket by Shambrica Jones.
Ferdinand, who missed her first four shots, helped jump-start an 18-4 run with seven straight points. KeKe Tardy's basket with 4:59 to gave the Lady Tigers a 26-15 advantage.
LSU led 34-23 at halftime and by as much as 19 in the second half.
The teams combined for 43 turnovers, but LSU made up for its mistakes with excellent shooting. The Lady Tigers shot 13-for-20 in the second half and shot 58 percent (29-of-50) from the floor compared to 41 for Kentucky.
April Brown and Roneeka Hodges each added 12 points for LSU. Tardy finished with 10.
Kentucky coach Bernadette Mattox said she was pleased the way her young team battled LSU.
"I think we hurt ourselves a couple times coming down and taking rushed shots," Mattox said.
LaTonya McDole led Kentucky with 18 points. Alvine Mendeng had 13.
Copyright 2018 The Associated Press. All rights reserved. This material may not be published, broadcast, rewritten or redistributed. We strive to uphold our values for every story published.