Ottawa — Chuck Crawford is a world-class athlete.
His box of medals testifies to his accomplishments. So, too, do his stories of past successes.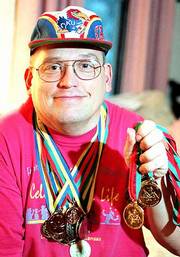 Today, Crawford takes a step toward adding to his accomplishments when he leaves for the Special Olympics World Games in Alaska.
Crawford's ability in the cross-country skiing, rather than his mental retardation disability, has earned him a spot at World Games. The 40-year-old Olympian from Ottawa departs today and will arrive in Anchorage, Alaska, for the games, which begin this weekend.
"I'm going to try my hardest," Crawford said, though he's just as excited to meet athletes from around the world as he is to compete.
Crawford has been involved in Special Olympics for more than 25 years. He's competed in such sports as volleyball, softball, basketball, bowling and more.
It was just last year that he snapped on a pair of skis and gave cross-country skiing a try for the first time. In the 2000 state competition, he earned two gold medals, a finish that earned him a place on the Kansas Special Olympics delegation to Alaska.
Six Kansas Olympians will be on the 500-member Team USA; more than 2,000 athletes from around the globe will be at the event. Among the events are cross-country and alpine skiing, figure and speed skating, snowshoeing and others.
Crawford's coach, Cindy Mendell, said she knows Crawford is in for quite an experience when he gets to Alaska. Crawford, who has attended the National Games in Connecticut as a coach, said the World Games are a once-in-a-lifetime event.
"It's an overall privilege to go," Mendell said. "It's just the same as any other Olympics you're an outstanding athlete."
Alice Crawford, Chuck's mother, said the World Games is a unique opportunity to recognize athletes with disabilities and to focus on what athletes like Chuck can do, rather than on what they can't.
"It helps to highlight special needs of people and their abilities," Alice Crawford said. "They're just as good as people anywhere else and they deserve the same kind of treatment."
Alice Crawford said Special Olympics events are plentiful in hugs and recognition and always giving credit to those who try.
The Special Olympics oath "Let me win, but if I cannot win, let me brave in the attempt" is indicative of their support for the athletes, Mendell said.
Chuck Crawford has been practicing skiing, watching what he eats and working out in a gym to prepare for his event. But he knows that it's his experience at the World Games that matters most, not the medals he hopes to add to his collection.
"I'm starting to get butterflies right now," Chuck Crawford said. "I'm going to try for the big ones, but it's okay if I don't get them."
Copyright 2018 The Lawrence Journal-World. All rights reserved. This material may not be published, broadcast, rewritten or redistributed. We strive to uphold our values for every story published.