Washington — Defense Secretary Donald H. Rumsfeld said Thursday that last week's airstrike on Iraq accomplished its goal, but admitted what the Pentagon previously had been unwilling to say publicly: Navy bombs used in the attack performed much worse than expected.
Two dozen U.S. and British jets attacked air defense sites around Baghdad on Feb. 16. The Pentagon has said it acted because Iraq had been improving its ability to target _ and potentially shoot down _ pilots patrolling the "no-fly" zone over southern Iraq.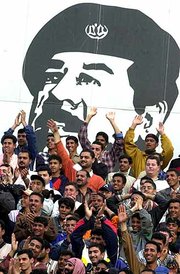 "Our interest was in addressing the question of the safety of the coalition pilots that are flying those missions," Rumsfeld said. "There's no question but that their safety is better today than it was before."
The targets of last week's air strikes were about 20 radar installations and several facilities that provide command and control links between the radars and other elements of Iraq's integrated air defense.
Pentagon officials speaking on condition of anonymity have said that more than half of the Navy bombs used against the radars missed their intended impact points, although some of the radars were damaged.
The weapon in question is the AGM-154A, which first was used in January 1999. In last week's attack they were launched by Navy F/A-18 fighters.
Earlier this week, defense officials said the Navy concluded most of those weapons went astray because on-board sensors had too little time to adjust the bombs' flight path to account for heavy winds. The solution, they say, is to ensure the bomb levels out sooner upon approaching the target. The bomb needs to be in level flight for the sensor to correctly calculate the wind factor and allow for course corrections.
Copyright 2018 The Associated Press. All rights reserved. This material may not be published, broadcast, rewritten or redistributed. We strive to uphold our values for every story published.