LIBERAL — Three-time International Pancake Race winner Lisa Spillman underwent an emergency appendectomy just one day after her record-breaking run, officials at Southwest Medical Center said Thursday.
But she was listed in good condition Thursday morning and expected to be released that afternoon just in time for her marriage this weekend.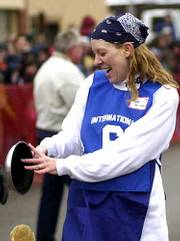 Spillman, 24, who works as a physical therapist assistant at the hospital, was admitted early Wednesday afternoon.
A little more than 24 hours earlier, she ran the 415-yard course in 58.1 seconds, breaking the previous record of 58.5 seconds set by Shelia Turner in 1976 and giving her an unprecedented third consecutive international title in the 52-year-old Shrove Tuesday rivalry with Olney, England.
Dr. Tony Canfield performed the surgery on Spillman using the hospital's new laparoscopic equipment, spokeswoman Sally Fuller said.
Copyright 2018 The Associated Press. All rights reserved. This material may not be published, broadcast, rewritten or redistributed. We strive to uphold our values for every story published.