Based on a pregame discussion Thursday, Lawrence High boys basketball coach Chris Davis had a hunch junior guard D.J. Watkins would deliver for the Lions.
"He (Watkins) came into the locker room before the game and said, 'The rims are being good to me tonight,' and I like hearing that," Davis said.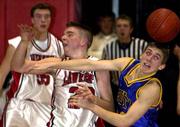 Davis liked seeing that as well. Watkins scored a game-high 25 points on 7-for-9 shooting from the field with four three-pointers and 7-for-9 shooting from the line to boost Lawrence High to a 66-53 victory over Olathe South in a Class 6A sub-state semifinal at LHS.
The No. 4 seed Lions (15-6) will meet No. 8 seed Free State (10-11) at 7:30 p.m. Saturday at LHS in the sub-state final for a berth in next week's state tournament in Emporia. Free State ousted defending state champion Leavenworth, the sub-state's No. 1 seed, in the other semifinal, 58-56.
Watkins wasn't alone with the soft touch. The Lions shot a season-high 61 percent from the field (22-for-36), including a 6-for-10 effort from three-point range. Nine different Lions scored.
"It seemed like everything was falling for everybody," said Watkins, a 6-2 guard. "They knew a lot of the plays we were running, but down the stretch we overcame them."
Down the stretch LHS hit its free throws. The Lions made 13 of 16 in the final 1:53 to seal the victory, their first sub-state win since 1998.
"The kids came out and played the way we practiced all year," Davis said. "They were patient and under control. The guards the last couple of weeks started taking too many chances with the basket and tonight they didn't. They were poised and hit the open man. Our offense ran better. I was pleased with the effort."
Tied at 16 after one quarter, LHS opened the second period with a 12-2 run and never trailed again. The Lions outscored the Falcons 14-2 in the decisive third quarter, wreaking havoc with their triangle-and-two defense.
"We took away their two offensive threats and it took them awhile to get into a groove and that was to our advantage," Davis said.
O-South, which finished the season at 11-10, hit one-of-eight field goals and committed five turnovers in the third quarter.
"We went through a dry spell and they didn't," said O-South coach John McFall, whose squad shot 38.1 percent overall from the field. "They went to the triangle and two, we knew exactly what we wanted to do, we recognized it, but we didn't get it to go down. Usually during a stretch of a high school basketball game, a team will go in a dry spell. Lawrence High never had one."
Lawrence led by as many as 18 points in the fourth quarter (45-27). Olathe South pulled within eight 61-53 on Steve Jackson's three-pointer with 53 seconds left.
Senior forward C.J. Kie scored eight points for the Lions. Junior guard Stephen Vinson and senior center Martin deBoer added seven points apiece.
Senior point guard Devin McAnderson, sparking the Lions in transition, scored five points, had five assists and three steals.
O-South was led by senior Jason Santifer, who scored 17 points.
LHS has thrived in tournaments this season. The Lions, already the Blue Valley Shootout and Capital City Classic champion, are 7-0 in tourney games this season.
"It has to do with the boys being focused," Davis said of the Lions' tournament play. "It's that win or go home mentality. You have to win to advance."
Saturday's final between LHS and FSHS will mark the first postseason basketball game between the two city schools. Free State leads the intracity series, 4-3. The Lions and Firebirds split two games this season.
Free State was a Class 6A state qualifier last season. LHS hasn't qualified for state since its 1995 state championship season.
"We know we have to step it up," Kie said. "It's tournament time. Lawrence High doesn't win games, they win championships."
Copyright 2018 The Lawrence Journal-World. All rights reserved. This material may not be published, broadcast, rewritten or redistributed. We strive to uphold our values for every story published.