New York — Jeff Van Gundy 224, Pat Riley 223.
Van Gundy surpassed Riley to become the third-winningest coach in Knicks history as Marcus Camby scored a season-high 27 points and grabbed 17 rebounds to help New York outlast Boston 95-88 Thursday night.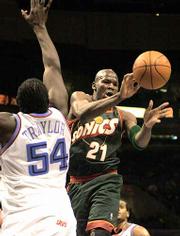 "Everybody knows how I feel about coach Riley. I think he's the best coach in team sports history," Van Gundy said.
"I'm honored to coach here in New York, I like the guys on the team and love the guys I work for in Scott (Layden) and Dave Checketts and I feel very fortunate that I'm here."
In his sixth season as head coach, Van Gundy still trails Joe Lapchick (326) and Red Holzman (613) for career coaching victories in New York. He has a career winning percentage of .596 (224-152).
"Sometimes I'm disappointed in myself when I can't get them to play at the level they need to play at," Van Gundy said. "So that's sometimes the frustrating part of coaching."
That was the case in this game as the Knicks, despite controlling things through the first three quarters and leading by as many as 16, found themselves leading by just one point after Antoine Walker hit two free throws with 5:36 left.
Camby tipped in his own miss to make it 87-84, and Walker missed a pair of free throws for Boston. Camby then got his third assist, threading a pass underneath to Larry Johnson for a layup and a five-point lead.
Pierce missed a tough shot inside and the Knicks pushed the ball upcourt to Latrell Sprewell for a jumper.
A bad pass by Eric Williams led to a fast-break layup by Sprewell for a nine-point lead with 2:59 left.
The Celtics pulled back within five and had a chance to get within three after forcing a 24-second violation, but Randy Brown missed two free throws with 16.4 seconds left to end their last hope.
"We missed some timely free throws," Walker said. "It was a tough loss."
Johnson added 21 points, Kurt Thomas had 16 and Sprewell 13 for the Knicks, who won their third straight.
Camby reached double figures in rebounds for the eighth consecutive game.
"With Marcus, the stats are unbelievable. The numbers are really unbelievable numbers," Van Gundy said.
"What I think you are seeing is a player who has improved consistently from the first day he has been here and has made a major jump this year."
Paul Pierce, who played college ball at Kansas University, had 23 points and Eric Williams 21 for the Celtics, who lost their fifth consecutive road game and dropped to 13-11 since Jim O'Brien replaced Rick Pitino as head coach.
Spurs 91, Suns 71
San Antonio Tim Duncan had 25 points and 10 rebounds for his 200th double-double for San Antonio.
The Suns, without second-year forward Shawn Marion for a second straight game, shot just 32 percent from the field.
Jason Kidd, who averages 15.7 points, scored seven points on 3-for-17 shooting. The Suns scored just 14 points in the fourth quarter, nearly matching their season low of 13 against San Antonio on Dec. 16.
David Robinson also had a double-double with 17 points and 11 rebounds as the Spurs split the four-game season series with Phoenix.
San Antonio built a 10-point lead as the Suns shot just 22 percent in the first quarter.
Phoenix surged back with a 12-2 run, keyed by reserves Vinny Del Negro and Tony Delk, and took a 26-24 lead with 8:45 left in the initial half.
San Antonio tied the game at 28 and scored nine straight points, punctuated by Robinson's alley-oop dunk and capped by Sean Elliott's 3-pointer.
Phoenix cut the lead to 53-49 with 7:58 left in the third on Cliff Robinson's 3-pointer and a basket by Kidd, but could get no closer.
The Spurs were up 67-57 at the end of the period and continued to widen the gap.
Delk led Phoenix with 18 points and seven rebounds, while Del Negro, a former Spur, had a season-high 14. Cliff Robinson contributed 12 points.
Terry Porter added 13 for San Antonio.
Sonics 101, Cavs 99, OT
Cleveland Shammond Williams' 18-foot jumper with less than one second remaining in overtime gave the Seattle SuperSonics a 101-99 victory.
Gary Payton scored 27 points for Seattle, which snapped a three-game losing streak. Williams finished with 19 points.
On the game-winning basket, Desmond Mason drove to the top of the key and passed to Williams on his right. Williams hit an arching shot from the wing, capping a game-ending 8-0 run. He then rushed back to his bench and was mobbed by teammates.
Mason had blocked a layup attempt by Andre Miller with 16 seconds to play, setting up Seattle's winning possession.
Lamond Murray led Cleveland with 21 points. Clarence Weatherspoon had 15 points and 14 rebounds for the Cavaliers, who lost for the 14th time in 16 games.
Payton scored six straight points as Seattle overcame a 99-93 deficit.
Cleveland native Ruben Patterson missed two free throws that would have put Seattle ahead with 1:21 left. He finished with 22 points, seven rebounds and six assists.
Each team had a chance to win in the final seconds of regulation.
With 6.1 seconds left, Mason inbounded to Patrick Ewing at the top of the key and took a return pass. Mason drove uncontested down the lane, but tossed an airball as Cleveland's Murray and Jim Jackson closed in.
After a timeout, Cleveland set up Wesley Person, who bobbled the ball along the baseline, then missed everything with his shot as time expired.
Cleveland took a 15-8 lead as the Sonics missed 11 of their first 14 shots. Payton went 1-for-5 in that stretch.
Payton had 18 points by halftime. He made six of seven shots in the second quarter to help the Sonics close within 51-49.
Rockets 108, Bucks 91
Milwaukee Steve Francis scored 29 points. Shandon Anderson added 21 points for Houston, which won its 13th straight game against a Central Division opponent.
Sam Cassell scored 23 points and Glenn Robinson added 19 for the Bucks, who lost their second straight.
The Rockets (32-27) used a 9-0 run in the first quarter to take a 26-17 lead. Francis and Anderson each scored 10 points in the period as the Rockets built a 30-23 advantage.
Francis added eight points in the second quarter as the Rockets built their lead to 15. Houston led 57-45 at halftime.
The Bucks closed within nine points in the third quarter, but Houston built its lead back to 18 points.
Milwaukee never really mounted a charge in the fourth quarter.
Trail Blazers 94, Clippers 81
Portland, Ore. Arvydas Sabonis scored 15 of his 23 points in the fourth quarter as the Portland Trail Blazers beat the Los Angeles Clippers for the first time in three tries, 94-81 Thursday night.
Damon Stoudamire added 17 points and nine assists for the Blazers, who lost to the Clippers twice earlier this month, both at Staples Center: 90-89 on Feb. 3 and 123-120 in double overtime on Saturday.
Portland again had trouble with the much younger Clippers, who shot 51 percent in the first half and led 46-45. Los Angeles folded in the second half, however, shooting 34 percent and putting up numerous airballs.
Eric Piatkowski scored 15 to lead the Clippers, who lost their third straight since the win over Portland.
Lamar Odom, the Clippers' leading scorer at 17.2 points per game, was held to three points on 1-of-2 shooting in 27 minutes. He left in the third quarter with a bruised left hip and didn't return.
Stoudamire carried the Blazers in the third quarter by scoring 11 points. He started the period with a 20-foot jumper that put the Blazers ahead for good, 47-46. The Clippers stayed in it, but a spectacular basket by Stoudamire gave Portland a seven-point lead entering the fourth.
With time running down in the period, Sabonis put up a hook shot that fell short. Stoudamire reached up over the Clippers' Jeff McInnis, grabbed the ball and lofted it into the basket at the horn for a 69-62 lead.
Copyright 2018 The Associated Press. All rights reserved. This material may not be published, broadcast, rewritten or redistributed. We strive to uphold our values for every story published.