Talk about March madness.
Free State High's boys basketball team won a wild Class 6A sub-state semifinal game Thursday night in front of a raucous, bipartisan crowd in the standing-room-only Lawrence High gym, toppling defending state champion Leavenworth, 58-56.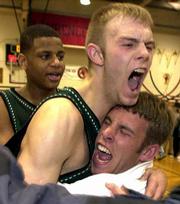 The Firebirds had dropped four straight against the Pioneers, including a 57-51 heartbreaker in last year's state quarterfinals.
"This is absolutely huge for us," said FSHS senior center Pat Krivoshia, who scored a game-high 22 points on 9-of-12 shooting. "Sub-state last year was good and we almost had them last year in the state tournament, but we haven't beat them since I've been here. This is huge."
Perhaps even bigger is the monster game looming on the horizon. For the first time in its four-year history, the No. 8-seeded Firebirds (10-11) will face No. 4 Lawrence High (15-6) in a postseason basketball game a sub-state championship, no less.
Tipoff for Free State's second straight sub-state title tilt is 7:45 p.m. Saturday at the LHS gym.
"It really doesn't get any better than this," FSHS coach Jack Schreiner said. "When the whole new high school thing started we knew that eventually there would be a night when Lawrence High and Free State would play to go to state. They do in football it seems like every year, but now this is going to be the first time in basketball.
"I would think this place will be rocking."
There was a dark cloud hanging over the Mardi Gras-like atmosphere Thursday, though, as the top-seeded Pioneers were forced to play without senior standout Wayne Simien.
Simien, a Kansas University signee and McDonald's All-American, started for the first time in six games after suffering a slight ligament tear in his right shoulder. The 6-foot-9 center, who was playing with a shoulder brace, lasted just 1:29 before the sore shoulder forced him to the bench.
"I've got the future to look forward to, a lot more games to play here in Lawrence," Simien said. "I really sat down before the game to think about what the future holds for me, try to weigh my options. I just wanted to go out there and give it a whirl. Unfortunately it wasn't ready.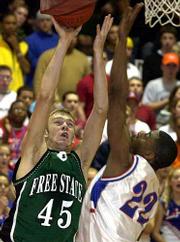 "At least I went down swinging."
Simien did score in his limited minutes, hitting a short jumper in the lane to open the scoring.
"I was really surprised," Krivoshia said of Simien's departure. "I thought he was going to be playing the whole time. We'd been preparing for him all week. We knew without him we had a lot better shot. They're human without him. He came down and had a good basket to start the game and I thought it was going to be a long night, but then he came right out."
Even without their leading scorer and 6-7 senior forward Nick Sanders (knee) the Pioneers still had a shot to win.
After FSHS senior point guard Morgan Minnis hit a free throw to give the Firebirds a 58-56 edge, Leavenworth senior guard Joey Payton went the length of the floor and put up a runner at the buzzer. The shot circled the inside of the rim once before bouncing out.
"I thought it had a chance," Leavenworth coach Larry Hogan said. "Hell, it was about two-thirds of the way in and came out. Joey did exactly what he needed to do."
Payton led the Pioneers with 18 points.
Free State also seemed to hit its offensive stride, as four of its five starters scored in double digits for the first time this season. In addition to Krivoshia, sophomore center Keith Wooden scored 12 points and junior swingman Andron Cruse and sophomore guard Neil Dougherty added 10 apiece.
"You can't just count on two people to score. The other three have to at least look to score," Schreiner said, referring to the team's top two leading scorers, Krivoshia and Wooden. "I thought Neil did an exceptional job. I thought Andron did a great job. And Morgan's role on this team is just not to turn the ball over play defense and don't turn the ball over and he did a great job of that."
Now the Firebirds just have to do it one more time to make a repeat visit to next week's state tournament in Emporia's White Auditorium.
"Obviously it's going to be tough," said Schreiner, whose squad split the home-and-home series with the Lions this season. "It's at their place. After last time here we kept talking about trying to put ourselves in a position to have another shot at them so that's all we can ask for."
Copyright 2018 The Lawrence Journal-World. All rights reserved. This material may not be published, broadcast, rewritten or redistributed. We strive to uphold our values for every story published.