New York — A last-minute buying binge brought on by cheap prices rescued stocks from a steep decline Thursday on Wall Street. However, the relief was expected to be short-lived, because the economy and corporate earnings are still hurting.
"Stocks are rallying because they went off so sharply for so many consecutive sessions," said Alan Ackerman, executive vice president at Fahnestock & Co., just before the market closed.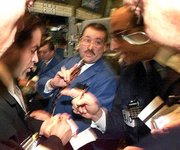 "But on balance, the market is still suffering from profit woes. Companies are still reducing their earnings and outlook numbers," Ackerman added. "We're in a difficult environment to call. ... There isn't a lot of commitment."
The Dow Jones industrial average closed down 45.14 at 10,450.14 after recouping much of its earlier 190-point loss.
Broader market indicators finished higher. The Nasdaq composite index rose 31.54 to 2,183.37, recovering from being down as much as 110 points. Still, the Nasdaq hasn't seen this level since December 1998. The Standard & Poor's 500 index inched up 1.29 to 1,241.23.
Throughout Thursday's trading, investors were still smarting from comments by Federal Reserve Chairman Alan Green-span that the economy has further to fall, and that the Fed won't lower in-terest rates be-fore its next meeting on March 20.
Wall Street wants Greenspan to take quick action to boost the ailing economy. However, Greenspan reasoned that the economy was less sluggish in January and February than it was at the end of 2000.
Still, analysts said the market has good reason to pout and to be tentative given that each day investors are confronted by a new set of companies warning that future profits will be weak.
Much of the tech sector's late reprieve came from IBM, which met privately with analysts at S.G. Cowen. IBM, a Dow stock, said it didn't report any new information to the analysts, but its stock climbed $6.15 to $106.05.
Among the big high-tech losers were companies, including semiconductor maker Broadcom, that announced earnings are going to continue to slump. Broadcom lost $1.63 to close at $47.63.
Bleak profit outlooks also hurt Gateway, which ended down $1.45 at $15.75. The computer maker warned that first-quarter earnings will be disappointing, and said it will restate downward its 2000 results.
Copyright 2018 The Associated Press. All rights reserved. This material may not be published, broadcast, rewritten or redistributed. We strive to uphold our values for every story published.