The curtain won't go up for Kansas Summer Theatre this year.
The summer theater program, a tradition on the Kansas University campus for more than 25 years, will not be offered as University Theatre tries to wipe out a $60,000 budget deficit, said Del Unruh, its director.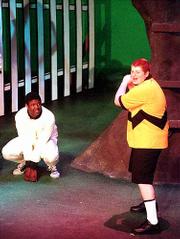 "University Theatre has been running in a deficit for the last four years because our ticket revenue does not keep pace with the costs of producing the shows the way we want to produce them," Unruh said. "So we will pay off the deficit with the summer productions."
By not offering Kansas Summer Theatre, Unruh said, University Theatre will break even for the year and be able to offer the summer season in 2002.
University Theatre raises 50 percent of its operating expenses from box-office sales.
"The audience has been dwindling," Unruh said. "Lawrence advertises itself as the City of the Arts. It's so competitive. The place is saturated (with things to do) University Theatre has a specific mission and that is educational. We're not really a player in the competitive market."
Unruh said the absence of Kansas Summer Theatre means that some students and faculty members who would have been involved in the shows won't be employed this summer. But no layoffs are planned.
Jim Peterson, technical director for University Theatre, said he and his staff would use the time to complete some building projects they had put on hold and to start on the first Main Stage production of the 2001-2002 season.
"We'll be building a costume storage area into the dressing room," Peterson said. "There's always a lot of building and maintenance things to do that Facilities Operations isn't involved with."
Unruh said the theater faculty, students and staff were handling the news fairly well.
"It's unfortunate," he said. "We're not depressed. We're not going to leap off the (roof of the) stage house."
Copyright 2018 The Lawrence Journal-World. All rights reserved. This material may not be published, broadcast, rewritten or redistributed. We strive to uphold our values for every story published.