Dubai, United Arab Emirates — The world's most wanted Islamic militant, Osama bin Laden, has applauded the bombing of the USS Cole in Aden, describing the destroyer as a ship of injustice that sailed to its doom.
Bin Laden's remarks were recorded at a family celebration in Afghanistan and broadcast on Qatar's satellite channel, Al-Jazeera, Thursday.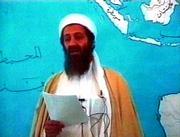 Two suicide bombers detonated a small boat full of explosives alongside the USS Cole as it refueled in Aden harbor, Yemen, on Oct. 12, killing 17 American sailors and wounding 39 others.
Yemeni and U.S. investigators have said publicly they have no hard evidence linking the attack to bin Laden, but one of the suspects told interrogators he believed he was acting under orders emanating from the Saudi dissident.
Bin Laden recited a poem at a gathering held Monday to celebrate last month's marriage of his son, Mohammed, in the southern Afghan city of Kandahar.
"In Aden, the young man stood up for holy war and destroyed a destroyer feared by the powerful," he said. He spoke of the ship as having sailed "to its doom" along a course of "false arrogance, self-conceit and strength."
Shouts of "Allahu Akbar," or God is Great, punctuated his reading of the poem, part of which was dedicated to the children of the Palestinian uprising.
Bin Laden appeared to have dyed his beard, which was dark black in contrast to photographs that have shown it streaked with gray.
One of bin Laden's sons, Hamza, no older than 10, recited a poem questioning the reasons behind the United States' pursuit of his father.
Copyright 2018 The Associated Press. All rights reserved. This material may not be published, broadcast, rewritten or redistributed. We strive to uphold our values for every story published.