United Nations — Unanimously re-elected to a second term on Friday, U.N. Secretary-General Kofi Annan pledged to redouble efforts to strengthen human rights and start carrying out a global plan to lift millions out of abject poverty.
With a resounding round of applause, the 189-member General Assembly approved by acclamation a second five-year term for the 63-year-old son of a Ghanaian tribal chief.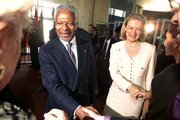 His election was a foregone conclusion after the 15-member Security Council formally nominated him on Wednesday. But Friday's official endorsement by the entire U.N. membership gave nations rich and poor, from every part of the world, a chance to reflect on his first term and set out their wish lists for the future.
Speaking on behalf of Latin America, El Salvador Ambassador Jose Andino Salazar encouraged Annan to strengthen "the principles of impartiality and independence of his duties against the pretensions or influence that any particular state ... may want to exercise."
Almost every speaker pointed to the ambitious agenda Annan had drafted to reduce poverty, give every child an education, halt the AIDS epidemic and improve human rights in the 21st century. The agenda was adopted at last September's Millennium Summit by more than 150 world leaders.
Annan said he will present a report to member states in September "indicating where we are succeeding and where we are failing, and why and where they need to do more."
During his first term, Annan said he sought to make the United Nations more responsive to change, to openly admit its past failures and to speak out for the poor and vulnerable.
"And I have sought to make universal human rights the touchstone of my work, in all their aspects, because I believe they belong to every faith, every culture, and every people," he said.
He pledged to continue U.N. reform in his second term and to build partnerships outside the United Nations with both business and civic groups.
Annan has faced criticism for trying to negotiate with Saddam Hussein, for standing by as U.N. peacekeepers were kidnapped in Sierra Leone, and for proposing a policy of "humanitarian intervention" to end human rights abuses. Many countries argue the policy infringes on their sovereignty.
Overall, however, he has won high marks for his performance. Timothy Wirth, president of the United Nations Foundation, which disburses Ted Turner's $1 billion pledge to U.N. causes, said Annan has "a saint-like sense about him."
"I think that he has been a remarkable force, and has helped put the U.N. back on the map in the United States," Wirth said.
Former U.S. Ambassador Richard Holbrooke called him "the right man at the right time and the right place."
"He's become a rock star of international diplomacy and he has the single best chance of anyone I know of reforming the U.N. and making it a better organization," Holbrooke said.
Copyright 2018 The Associated Press. All rights reserved. This material may not be published, broadcast, rewritten or redistributed. We strive to uphold our values for every story published.