Miami — Speculation about what Fidel Castro's recent fainting spell could mean has taken hold of Florida's Cuban exile community like nothing else since the Elian Gonzalez saga.
Callers to exile-run radio stations debated this week whether the 74-year-old Castro, who seemed to briefly pass out while delivering a speech Saturday in Cuba, has weeks or months to live.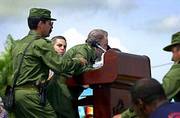 "Everyone is commenting about his downfall, how he was disorganized and incoherent," said the Rev. Manuel Salabarria, spokesman for WWFE-AM. "The entire exile community is moving at the pace of that new development."
Largely missing has been talk of Elian, who returned to Cuba a year ago today after a Supreme Court ruling that ended the legal battle for custody waged by the Cuban boy's Miami relatives.
Unlike the one-year anniversary of the armed raid to seize the boy, marked in April by scores of Cuban-Americans gathered outside the Little Havana home where Elian lived for five months, no prayer vigils or protests are planned this time.
"What we're trying to do is put behind the case of Elian Gonzalez as we have millions of children in Cuba that are living under oppression," said Ramon Saul Sanchez, head of Democracy Movement, a Miami-based Cuban exile group.
Armando Gutierrez, spokesman for Lazaro Gonzalez, the boy's great-uncle, said Wednesday that the anniversary would be "a sad day" for the family, but that no plans were being made to commemorate the day.
Not lost on some, however, is the drawing power that Elian's name still evokes.
The same Cuban exile leaders who used the airwaves to rally crowds to demonstrate in support of Elian's Miami relatives last year urged listeners Wednesday to protest former Atty. Gen. Janet Reno, scheduled to speak today in Miami Beach.
Many Cuban-Americans loathe Reno because of her handling of the Elian case. Reno has been making speaking appearances as she ponders whether to run for Florida governor.
Meanwhile, a group led by former U.S. diplomat Sally Grooms Cowal, who came to know Elian's father during his stay in Washington last year, planned to use the day to push for an end to the U.S. embargo against Cuba.
Cowal, head of the Cuba Policy Foundation and former ambassador to Trinidad and Tobago, said she seized upon the Elian anniversary to make the point that easing restrictions on travel to Cuba would help reunite Cuban-Americans and their relatives on the island.
"The myth is that Cuban-Americans speak with one voice in support of the embargo, and in fact, they don't," said Cowal, who is backing bills before Congress to roll back measures approved last year restricting travel and food and medicine sales to the communist-ruled island.
Joe Garcia, executive director of the Cuban American National Foundation, the largest and most powerful Cuban exile group, disputed the idea that U.S. travel to Cuba could help to lead to reforms there.
"A farmer from Iowa walking through the streets of Havana is not going to change any thoughts. Tourism in Cuba supports the regime," Garcia said. "I would argue that 42 years of engagement by the entire world community has produced a 42-year-old dictatorship."
Copyright 2018 The Associated Press. All rights reserved. This material may not be published, broadcast, rewritten or redistributed. We strive to uphold our values for every story published.