Topeka — Forced to defend it publicly, Western Resources Inc. is suggesting an agreement that could provide millions of dollars to its top executives is insignificant.
The "change of control" agreement spells out compensation for Western executives who lose their jobs if the company splits off its electric utility operations. The Kansas Corporation Commission, which regulates utilities, is reviewing Western's plan.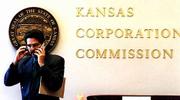 Critics of the reorganization plan have suggested that Western executives are trying to enrich themselves. Western contends change of control agreements are common among corporations.
The KCC began a hearing on Western's plan Tuesday and hopes to finish it Friday.
"There is nothing abnormal or unusual in these change of control agreements," James Martin, Western's treasurer and senior vice president for finance, testified Tuesday.
Western is the largest electric company in Kansas, providing power to more than half of the state's households and 636,000 customers overall through its KPL division and KGE subsidiary.
Western hopes to merge KPL and KGE with Public Service Company of New Mexico. Albuquerque-based PNM would issue $1.5 billion worth of stock and assume $2.9 billion in debt in exchange for KPL and KGE assets.
Western's remaining business interests would remain with Westar Industries. Westar is now a subsidiary of Western but would become a separate company.
Western officials contend that regulators and ratepayers have nothing to fear from the restructuring and that their plan will pay down Western's debts.
Critics suggest that the deal will leave the former Western utilities with so much debt that their ability to provide reliable service at reasonable rates will be in jeopardy.
The Citizens' Utility Ratepayers Board, which represents residential and small business consumers, contends that 21 executives could receive $100 million if the PNM deal is completed.
Western released documents last week indicating that if the agreement had been in force at the end of 2000, five executives would have received at least $15.1 million in compensation.
During Tuesday's hearing, Walker Hendrix, CURB's consumer counsel, questioned Martin about the agreement, and Martin insisted that he couldn't say whether any money would ever be paid under them.
"There's been no triggering events," Martin said. "There's a whole host of assumptions that have to be made before a dollar is paid out."
CURB has said the former Western executives are likely to jump immediately to Westar. But during an interview, Carl Koupal, Western's executive vice president and chief administrative officer, said: "There's no assurance of that."
During the hearing, Hendrix wanted to ask Martin about an article in this week's edition of Fortune magazine criticizing compensation for corporate executives across the nation. The article, "The great CEO pay heist," did not mention Western.
Michael Lennen, a former KCC chairman who now represents Western as an attorney, objected. He suggested Hendrix was after only "public relations value."
KCC Chairman John Wine agreed and said the KCC wanted questioning to remain narrow.
Martin and Koupal also sought to defend Western against a suggestion that it wasn't thoughtful enough in drafting its reorganization plan.
James Zakoura, an Overland Park attorney who represents the Kansas Industrial Consumers, suggested that Western had other alternatives and did not consider them. Koupal replied: "The board of directors looked at the various alternatives, considered the various alternatives and chose the transaction with PNM."
Copyright 2018 The Associated Press. All rights reserved. This material may not be published, broadcast, rewritten or redistributed. We strive to uphold our values for every story published.