Editor's note: This is the second in an ongoing series written by Lynn Feng while she is working at a panda research facility in China.
---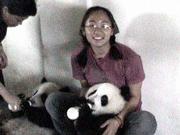 Sichuan, China Nested on top of a hill half a mile away lies the baby panda nursery that I hike to twice a day. However, the strenuous trek through the Chengdu Research Base seems worth the trouble when I see the curled-up figures of my new best friends: Liang Liang, Cheng Gong, Cheng Ji, Bing Xin and Bing Dian.
By the time I arrive at the nursery about 8 a.m., the cubs are still sleeping and usually remain that way for another 20 minutes. After hearing little grunts and squeaks that reveal they're awake, I begin talking to them in English as if they were little babies. I know it's probably futile, but there's always a part of me that hopes my efforts will be rewarded by the emergence of bilingual pandas.
Surprisingly, the cubs are not fed in the mornings. The girls Liang Liang, Cheng Gong and Cheng Ji are transferred directly to the exhibition room. The boys Bing Xin and Bing Dian are carried back to their mother.
Although all five are roughly the same age, the boys have to stay with their mother for another three months. Male pandas are more prone to sickness, so the center is attempting to prevent problems by ensuring that the boys receive as much nutrition from their mother as possible.
Another reason why the boys are kept longer with their mother is because they need to learn essential life skills like fighting. When the pandas are eventually released into the wild, males will find themselves constantly fighting with other males to see who has the most testosterone, and their mother's valuable lessons will become priceless.
Although the cubs are already 9 months old, they still need to be fed by bottles. The girls' daily feedings at 11 a.m. and 5 p.m. in the exhibition room have proved to be hectic. With each girl clutching a bottle like a real baby, mealtime requires many people.
Because each cub finishes her bottle at a different time, at least one person runs around the room, attempting to keep the cub busy while the others finish. The result: complete chaos until all three finish eating and we are able to dash out of the room before any sneak out.
Lynn Feng, 17, will be a senior in the fall at Free State High School.
Copyright 2018 The Lawrence Journal-World. All rights reserved. This material may not be published, broadcast, rewritten or redistributed. We strive to uphold our values for every story published.