Jacque Vaughn desperately wanted to play in a pick-up basketball game between current and former Kansas University players on Wednesday at Horejsi Center.
For personal reasons, however, KU's all-time assist leader had to decline.
"To hear those cheers today, I wanted to go out there and play," said Vaughn, a fourth-year Utah Jazz point guard, who heard chants of 'We want Vaughn' from hundreds of Roy Williams' campers.
"I wish I could have told them (why I couldn't play.) I don't have a contract at the moment, so if I get out there and turn my ankle, those cheers are not going to pay my light bill."
The 6-foot-1 Vaughn who averaged career highs in points (6.1), assists (3.9) and minutes (19.8) last season is a free agent this offseason and in mid July will be free to sign with any team.
"It was a very good season for me. It's a good year for me to be a free agent," Vaughn said.
Does he have specific teams in mind?
"I do," Vaughn said after serving as guest speaker at Williams' camp, "but you know I'm smarter than that to say it and rule out any place.
"An opportunity to continue to play is the most important thing. My agent starts talking to teams on July 1. I'll let him earn his pay I guess. For me, I'll just try to stay as relaxed as I can and work on my game."
See the
6Sports report
on Vaughn's visit.
Vaughn, 26, would like to remain with the Jazz for one selfish reason. Utah will play an exhibition game at Allen Fieldhouse next NBA preseason.
"Boy that would be nice," the 1997 KU grad said of playing in Lawrence again. "To come back here and hear some cheers I heard for four years, that'd be wonderful if it was to occur."
Vaughn says he's as happy as ever.
He's engaged to be married next summer and figures to land another NBA contract after proving last season he can produce when called on.
"This is a very happy time in my life," Vaughn said. "Being engaged, having some great friends around me. My basketball career is just climbing, so it's a great time in my life most definitely."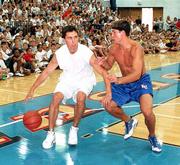 Led by Nick Collison's 18 points and 17 rebounds, KU's current players beat the former players, 80-73, on Wednesday at Williams' camp. Michael Lee and Drew Gooden had 12 points each for the Jayhawks. Steve Woodberry scored 28 points and Rex Walters 12 for the ex-Jayhawks.

KU frosh Keith Langford, who has been slowed by a twisted ankle, scored four points Wednesday. Langford, 6-4 from Crowley, Texas, will attend a Team USA/Texas minicamp this weekend in Dallas.
He is one of 19 invitees competing for 15 spots on the USA/Texas roster. The 15 finalists will represent the U.S. in the 2001 Global Games set for July 22-28 in Dallas. Team USA/Texas coach is former NBA guard Derek Harper.
Copyright 2018 The Lawrence Journal-World. All rights reserved. This material may not be published, broadcast, rewritten or redistributed. We strive to uphold our values for every story published.