United Nations — In the first global approach to battling a disease, the United Nations adopted an AIDS blueprint Wednesday setting tough targets for reducing infection rates and protecting the rights of people with the virus.
Under pressure from Islamic countries, Western nations were forced to back away from specifically naming the most vulnerable populations, including homosexuals and prostitutes. But experts said Wednesday that the heart of the document was in the details of the plan, not the language.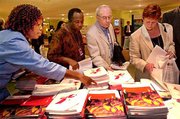 "It's not a perfect text but it is a good text, action-oriented and practical," said Australian Ambassador Penny Wensley, who co-chaired negotiations on the draft.
With the rap of a gavel and a round of applause, the 16-page Declaration of Commitment on HIV/AIDS was adopted by consensus by the 189-nation General Assembly. It calls for accelerating efforts to find a cure disease that has taken more than 22 million lives.
"After today, we shall have a document setting out a clear battle plan for the war against HIV/AIDS, with clear goals and a clear timeline," U.N. Secretary-General Kofi Annan said Wednesday. "It is a blueprint from which the whole of humanity can work in building a global response to a truly global challenge."
The three-day U.N. conference brought together more than 3,000 health experts, scientists, lawmakers, aid workers and people living with the virus.
First detected in homosexual men in the United States 20 years ago, the AIDS virus has exploded across the developing world, with more than 36 million people now infected. More than two-thirds of those afflicted are in Africa most of them women.
A last-minute compromise on the declaration came after Western nations reluctantly agreed to drop language specifically naming groups vulnerable to the disease including homosexuals and prostitutes because it was offensive to some Muslim nations.
Instead the new language refers to those who are at risk due to "sexual practice" and "livelihood," and prisoners as those made vulnerable through "institutional location."
Egyptian diplomat Amr Rashdy, who led the push to change the language, said his country could live with the final document. "The outcome is fair and we accept it," he told The Associated Press.
But others argued that the original language would have better served those most in need of protection.
"For many, there is a reluctance to recognize groups affected by HIV/AIDS including men having sex with men; much of that reluctance is based on religion and on culture," said Mary Robinson, the U.N. high commissioner for human rights. "A failure to recognize it means the numbers of those infected can only grow."
Annan, who has made fighting AIDS a personal priority, acknowledged that tackling the issue had exposed "painful differences" among nations.
"Everyone has learned something here at this conference. In some countries maybe it will take a bit longer to recognize the reality and the need to respect the rights of every individual," Annan said.
Though not legally binding, the document calls on governments to create AIDS policies and programs to quickly reduce infection rates and protect those most at risk.
It makes specific references to cooperation needed between public and private sectors. It also recognizes the need for greater access to affordable drugs.
Copyright 2017 The Associated Press. All rights reserved. This material may not be published, broadcast, rewritten or redistributed. We strive to uphold our values for every story published.