Appropriately, the top two golfers at last fall's Class 6A state girls state tournament led Kansas to an easy victory at the junior girls Four State Team Play Championship on Wednesday at Alvamar.
Emily Milberger, the reigning 6A state champion from Olathe North, posted her second consecutive 74 round to earn top individual honors. Lauren Phlegar, last year's state runner-up from Free State High, shot another 81 to place third overall in the 20-player tournament. Kansas, which had a nine-stroke lead entering the second round, ruled the Kansas Women's Golf Assn. event, finishing with 640 strokes, 34 ahead of runner-up Nebraska (674).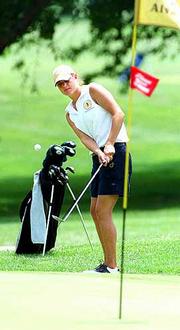 "This is a fun tournament," said Milberger, whose 2-over-par round Wednesday was highlighted by a birdie on the par-5 No. 8. "It's more of a team event than an individual event."
Milberger, an Oklahoma University signee, overcame a double-bogey on No. 14. She closed with par, par, bogey and par.
"I didn't play as well as I wanted, but who ever does?" Milberger said. "I hit the ball solid, but the putts weren't falling today."
Milberger carded a 1-under 35 on the front nine and a 3-over 39 on the back nine.
For the second consecutive day, Phlegar succumbed to the back nine.
The Kansas University signee, who finished with a 38 for the front nine, was 2-over-par through 13 holes before running into trouble. She finished double-bogey, par, bogey, double-bogey and double-bogey.
"I blew up on the back nine like yesterday," Phlegar said. "It seems I always have trouble on holes 14 through 18 because of the water."
Unlike Tuesday, Phlegar avoided water on No. 14. However, she found another obstacle that led to the double-bogey.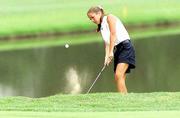 "Yesterday I hit in the hazard, so I took out an iron, then I hit it left in the trees," Phlegar said.
On No. 17, Phlegar's approach shot found the water. On No. 18, Phlegar failed to get her third shot out of the sand trap.
Sara Sackett of Nebraska finished second with 154 two-round total (79-75). Milberger and Sackett were the lone golfers to shoot sub-80 rounds both days.
Iowa (679) and Missouri (685) finished 3-4 at the tournament.
Copyright 2018 The Lawrence Journal-World. All rights reserved. This material may not be published, broadcast, rewritten or redistributed. We strive to uphold our values for every story published.