Lviv, Ukraine — Pope John Paul II bid an emotional farewell to Ukraine on Wednesday, ending a visit during which he sought to foster religious and national unity in this former Soviet republic.
"Unity and harmony. This is the secret of peace and the condition for true and stable social development," the pope said in his farewell speech at the Lviv airport. "It is thanks to this combination of intentions and actions that Ukraine, homeland of faith and dialogue, will see its dignity recognized in the community of nations."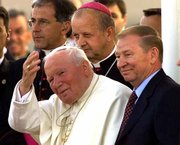 John Paul returned to Rome in early evening.
The five-day visit brought the pope from the golden domes of Kiev, where the Orthodox reign, to the Baroque churches of Lviv, stronghold of Ukraine's Greek Catholics, who retain Eastern rite rituals but remain faithful to the pontiff in Rome. John Paul's efforts to heal the schism dividing Christianity for nearly a millennium were the main theme of his trip.
President Leonid Kuchma invited John Paul to Ukraine in spite of the vehement opposition of the majority Orthodox Church.
"My hope is that Ukraine will be able fully to become a part of the Europe which will take in the entire continent from the Atlantic to the Urals," the pope said, building on his desire to foster European integration based on common Christian roots.
He urged the people to "look with confidence in the future. This is the opportune time!"
Ukraine's future depends on its people's ability to bury deep divisions that stem from centuries of nationalist, religious and political rivalries as well as on the government's resolve to enforce reforms.
Kuchma said that the pope's visit provided "a unique opportunity to consider critically ... what has been done and what still remains to be done for the country to become an equal member of European society.
Copyright 2017 The Associated Press. All rights reserved. This material may not be published, broadcast, rewritten or redistributed. We strive to uphold our values for every story published.