A twin bill of legendary songwriters shared the Sandstone stage Tuesday night. Paul Simon and Brian Wilson performed before a throng of music fans representing several generations. Headliner Simon, touring in support of his latest release, the Grammy nominated "You're the One," began his show with its opening song "That's Where I Belong."
Simon's multi-national, multi-ethnic, multi-instrumental 11 piece band brought their diverse musical flavors together for a rousing rendition of "Graceland," and "You're the One" before quieting things down for a relaxed reading of his 1975 hit "50 Ways to Leave Your Lover."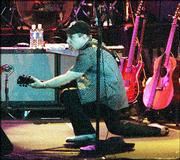 The Zydeco-flavored "That Was Your Mother" was followed by a raucous "Me and Julio Down By The Schoolyard," "Love," "Spirit Voices," and the popular "Diamonds On The Soles Of Her Shoes." After a delightful three-piece percussion jam, "You Can Call Me Al" a song that has aged beautifully followed. A brilliant snapshot of a man caught in the crosshairs of middle age and experiencing both the confusion and wonderment of that moment.
Simon then quieted things down for an acoustic interlude, which included "The Sounds Of Silence," "Homeward Bound" driven by the kind of shuffling snare drum that buoyed many a Johnny Cash hit, and "I Am A Rock.
The full band then returned to raise the energy level back up with "The Boy In The Bubble." "Cool Cool River," and "Late In The Evening," the hit from Simon's 1980 film "One trick Pony."
It's a marvel to see young fans in their twenties singing along with a song like "Hurricane Eye" from Simon's latest release, and it's a testament to his staying power as an artist. This was no oldies revival, and his recent material receives far better than patient indulgence from his fans.
He closed his set with "Proof" and "Still Crazy After All These Years" before pausing before his encores.
After spectacularly muffing the lyrics to "Mrs. Robinson," he performed the breathtaking "The Boxer" and a soulful version of "Loves Me Like A Rock" featuring his band members in the role of gospel harmony group.
During his second and final curtain call, Simon Sang a verse of "Kodachrome" to a fan at home through the cell phone of a front row patron that had been sharing the concert via the airwaves.
A true class act, Simon invited Brian Wilson, the eccentric Beach Boys auteur to open Simon's summer tour, after the two took turns honoring one another earlier this year. Simon performed "Surfer Girl" at a Brian Wilson tribute which will air on the TNT network on the Fourth of July, and Wilson performed Simon's "The Sounds of Silence" at the Grammies' "Musicares" charity event.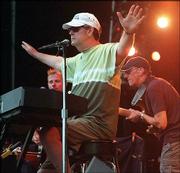 Though served by Teleprompters, and appearing to never once touch the keyboard in front of him, Wilson deserves this victory lap. It's a treat to hear songs like "In My Room" and "God Only Knows" outside the trite confines of what a Beach Boys concert has become, and without the smarmy personality of Beach Boys front man, Mike Love.
Copyright 2018 The Lawrence Journal-World. All rights reserved. This material may not be published, broadcast, rewritten or redistributed. We strive to uphold our values for every story published.