Lawrence Police are stumped.
Someone who apparently has a key or knows how to pick the locks on parking meters is beating city officials to the machines and pocketing their money.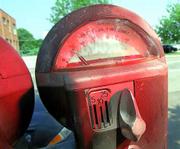 Another 81 meters had money stolen from them sometime early Sunday, police said Wednesday.
Apart from the empty coin boxes, there was no evidence that the meters had been tampered with, police spokesman Sgt. Mike Pattrick said.
The meters accept nickels, dimes and quarters, so precise losses from the thefts are unknown, Pattrick said.
The city collects about $25,000 a month from all parking meters.
A little more than a week ago, police found about 50 downtown parking posts hit by a thief.
The thefts weren't discovered until a city employee unlocked the meters to collect the coins and found them empty or nearly empty, police Parking Control Supervisor Doug Bell said.
There have been other meter thefts in recent weeks, but the methods were different. On at least two other occasions, meter heads were cut off and stolen.
Lawrence isn't alone. Earlier this month in Topeka, 28 meter heads were cut off 14 meter posts, Topeka Police spokesman Lt. John Sidwell said. The meters were along 10th Street on the south side of the Capitol, he said.
All but two of the meter heads were later found near Perry Lake, Sidwell said, adding, "They still had the money in them."
From December 2000 through May, Lawrence collected $157,290 from parking meters, city Finance Director Ed Mullins said. During 2000, meter revenue was $293,524, and monthly totals since December have ranged from nearly $23,000 to about $27,000, he said.
Lawrence Police say they are taking steps to stop the thefts and catch the thieves, but they aren't revealing what those steps are.
Sidwell remembers catching a meter thief several years ago while he was on patrol.
"He was using a homemade key," Sidwell said.
Copyright 2018 The Lawrence Journal-World. All rights reserved. This material may not be published, broadcast, rewritten or redistributed. We strive to uphold our values for every story published.