Robert Pollard's life has been turned upside down in the last couple of years.
Everything has changed for the 43-year-old former schoolteacher and mastermind behind indie rock outfit Guided By Voices, whose recent past has been tainted by events like divorce, band member walk-outs and extended bouts with the bottle. Currently, the enigmatic, hard-living frontman is taking his troubles on the road, which provides the only modicum of routine to what has become an otherwise scattershot existence. Too bad it's a mind-numbing schedule that often takes more than it gives, but such is life for Robert Pollard at the moment.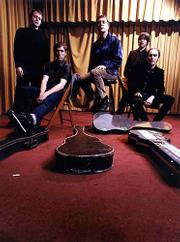 "It's rough, but it's fun," Pollard says in a rapid-fire patter, phoning from his Dayton, Ohio, apartment, where he's taking a week off between extended road stretches. "It beats a lot of jobs, but it's tough because we drink and we put on two or three hour shows, so we work. That part's actually a lot of fun. The part that's boring isn't even necessarily the traveling in the van. It's like when you get to a venue at four o'clock and you have to wait around. You load-in, set-up and sound check and whatever else. It's four hours of wasted time, basically. And that gets routine; it gets kind of boring and time kind of drags. You can either go back to the hotel or you can start drinking."
Teaching Mr. Pollard
Guided By Voices began as a hobby and side project for Pollard, who was an Ohio grade-school instructor in 1985 when the group began. "Group" might be a disingenuous term for describing GBV, which has always consisted of Pollard and his songs, as interpreted by various musicians.
"I get together with my friends and we come up with ideas and jam," Pollard explains. "But I really wouldn't call it a jam because it's a controlled jam. When we jam, I'll stop it after like a minute."
For the first several years of its inception, GBV rarely played live and changed lineups continuously. Though Pollard released a string of low-fi, low-budget records under the GBV moniker, it wasn't until the early '90s that the nation began to pay attention.
"In 1993, all the sudden we played a show in New York, and all the labels indie labels and major labels just came swooping in," Pollard recalls. "They wanted us, so there was a bidding war going on and we made good money right away. And it's continued because we keep going."
What: Guided By Voices, OrangerWhen: 9 p.m. SaturdayWhere: The Bottleneck, 737 N.H.Ticket information: 841-5483
In 1994, GBV released the Matador Records-distributed "Bee Thousand," which garnered the band critical raves in the national rock press and a slot on several Lollapalooza dates that year. Though Pollard was finally able to quit his teaching gig and concentrate on music full-time, GBV continued to add and subtract musicians according to its leader's shifting tastes and alliances.
"I only make changes if I think it's necessary," Pollard says. "If I think it's just not working or it's getting kind of stale and I don't feel the enthusiasm from someone, then I'll make a change. But as long as people are into it and they appreciate the fact that they're not working a 9 to 5 job, they're a rock band and I can sense that they truly appreciate that it naturally kind of shows in the music. You can feel when people are into what they're doing. You can feel when people are just going through the motions or taking things for granted. It's really a golden opportunity to be able to be in a rock band where you can quit your job and that's what you do. That's what my band does. I read where a lot of bands have to work still and that sucks! I don't understand that. We make enough money where we don't have to work."
Backbone juice
Money was certainly central to the success of GBV's 1999 album, "Do the Collapse," produced by former Cars singer Ric Ocasek. For the first time in its storied history, Pollard's band recorded in a real studio, having spent years cranking out releases on the cheap, using hissy 4-track machines.
"That was our first experience in a big studio and I enjoyed it," Pollard says. "Ric's a good guy and I think I learned a lot. I like the things he did, but there's some keyboard things that, with hindsight, I could do without. But I think it's good. I think it's got its own personality, and that's kind of my goal for each record: that it has a different feeling on it."
GBV's extensive tour for "Collapse" raised the group's profile significantly, albeit at the expense of the band's personal lives. Pollard's schoolteacher past was hyped ad-nauseum and comparisons to other instructors-turned-rockers (Sting, Gene Simmons) were prevalent. GBV also gained something of a reputation for its boozy back catalog and drunken performances.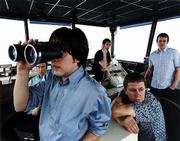 "Alcohol really doesn't play a role in my songwriting," Pollard explains. "Sometimes when I'm drunk, I think of some pretty interesting phrases and I write 'em down, but most of the time I write in the morning with coffee. I'm fresh and it's kind of a new day. The alcohol is for performance; it's basically backbone juice. To be able to get onstage and deal with that many people screaming, I kind of have to get a little bit of a buzz. I've found that if I'm not half-drunk, I even forget lyrics. So I need to get a little drunk. I don't get as drunk as I used to. I've learned how to gauge it a little bit better without going over the line."
The "Collapse" tour also led to severe disarray for Pollard and company at home, where the band members' personal relationships began to crumble in the wake of their newfound success. Soon, Pollard separated from his wife, who he'd been with for 27 years.
"I kind of let my guard down on the road and ... something happened that caused some turmoil on the home front," he says. "It's not just me; I wasn't the only one that happened to. Almost everybody in my band went through a breakup with their longtime relationship. It was weird. Tim (Tobias) did, Doug (Gillard) did. And Jim MacPherson was going to and had to make a decision to quit the band. But a lot of times, out of pain comes some moments of creativity, and I think it's good for the songwriting process sometimes to go through some trouble and some pain."
Must musicians experience genuine pain before they can create truly masterful art?
"You don't have to," Pollard says. "You can be happy and make good music. But you need to have an extreme sway of emotions, I think, to be inspired. Whether it's you're elated or you're really, really sad. But both ways in either direction causes a good period of creativity."
Isolation chamber
This adage certainly proves true on GBV's latest release, "Isolation Drills," released earlier this year by TVT Records. Pollard's pain results in a big, jangly album brimming with struggle and strife that effectively captures his forever-changed life. Songs like "How's My Drinking?" "The Brides Have Hit the Glass" and "Fine To See You" serve as stark odes to Pollard's troubled state of mind, particularly when juxtaposed with the sunny gallop of tracks like "Chasing Heather Crazy." Though GBV's music has always alternated anthemic pop with shadows and fog, "Isolation" is clearly Pollard's most heartfelt effort to date.
"It was mostly what we were going through because we were on the road all the time and we felt really separated from what we were accustomed to being around," the singer/songwriter explains. "It probably is my most personal record because I separated from my wife so it was a rough time. That was the person I'd been with for 27 years. So it just came out. The sadness just kind of came out."
Currently, Pollard remains estranged from his wife and children.
"I think we're gonna go through with the divorce probably," he sighs. "It's rough, but you just gotta move on. So I'm out. I'm in an apartment right now. I like living by myself a little bit. But I miss my home. I lived there for 28 years and we raised our kids together. It's sad, you know?"
Ironically, the various separations that plagued GBV brought the group closer together.
"We're more like a family now," Pollard says. "I think it kind of tightened the bond and strengthened the chemistry of the band. We're together all the time. We tour for 10 months and go home for a week or so every once in a while. And when you do that, and you're with people for that amount of time, if it doesn't strengthen the bond of the band then it will just be miserable. And I've gone through that experience where I've been with a band on the road for like a year and it was just a miserable experience because we really didn't like each other. We like each other, so it's good. Even so, even if you really love each other, being around each other that long, you start to get on each other's nerves."
Interestingly, Pollard doesn't find it difficult to get into the emotional space of the new material in concert settings. Night after night he takes the stage to relive the struggle of the past two years, perhaps as means of exorcising the demons of his personal life and looking for some measure of closure
"The one thing about the songs is that they're kind of sad and darker but they're still uplifting because it's power rock," Pollard explains. "They're anthems and they're good to play live. That stuff tends to translate really well to the stage. We're still doing 12, 13 songs from this album in our live set, and we've been doing them for four months. Usually, the ratio's not that high. After the initial release of an album, we kind of narrow it down to five or six songs that we really like."
Think tanked
In many ways, Pollard has truly come full circle. With nearly 20 solo and GBV efforts to his credit, as well as numerous EPs and guest appearances, he's now recognized as one of indie rock's elder statesmen and a role model for those aspiring to achieve success while not selling-out. Instead of lecturing to a group of wide-eyed schoolchildren, the 43-year-old vocalist now performs before packed venues of doe-eyed fans, who hang on to his every utterance and aside.
"It's basically the same thing," he says. "When you're teaching, you have to keep things interesting and varied enough to keep their attention all day long. It's pretty much the same thing at a show you want a sequence so that it's kind of a roller coaster ride and it's fun for people and they don't get bored and you keep their attention. It's too bad I couldn't have a few beers while I was teaching. I think I'd have stayed with it. Or got stoned or something. Actually, one time I got stoned in the morning before I went and taught, and I was much better. I was way more into it, and they were more interesting and we did more with what was going on. I think teachers should be allowed to get stoned. I don't think they should be able to drink, but I think they should be able to get stoned in the morning. I was better when I did it."
Copyright 2018 The Lawrence Journal-World. All rights reserved. This material may not be published, broadcast, rewritten or redistributed. We strive to uphold our values for every story published.