For a teen movie to transcend the trappings of its genre, it doesn't have to be revolutionary. (The bar is set pretty low already these days). Usually, all it needs is to avoid the plot clichand the rampant pandering to a demographic market maybe even add a little honesty. The infuriatingly named "crazy/beautiful" (originally titled "At 17") is a cut above the usual teen romance. Occasionally, it's way above.
The story's setup is certainly familiar: Carlos (newcomer Jay Hernandez) and his Latino buddies first meet Nicole (Kirsten Dunst) as she is picking up trash along a California beach to fulfill her community service sentence. Nicole recognizes that she and Carlos are classmates at the same upscale school in Pacific Palisades, but each goes for very different reasons. Because of his good grades and football skills, Carlos takes the two-hour bus ride from his L.A. barrio to attend the school. Nicole is the privileged daughter of a wealthy congressman (Bruce Davison) who has all but given up on trying to keep her out of trouble.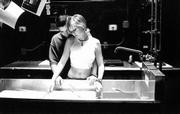 Both teens begin their day awakened by a Spanish voice. In Carlos' case, it's his demanding mother, who wants him to avoid past sibling mistakes by joining the Navy flight school and becoming a pilot. Nicole is roused by her Mexican maid. When Nicole musters enough energy to go to school, the day usually devolves into ditching classes or drinking in the school's parking lot.
Of course, a romance ensues between the young couple. But it's not just the typical "rich kid/wrong side of the tracks" relationship that has dominated teen fare since the '50s. Part of the movie's power stems from being able to circumvent its routine storyline through subtle changes. For once, the rich white girl is portrayed as the screwup, while the poor ethnic boy is the popular, responsible, good student.
Former teen actor John Stockwell ("Christine") tries his hand at directing, shooting "crazy/beautiful" in muted blues and lingering closeups with a minimum amount of camera trickery. This film mainly thrives on its convincing "tone," and the acting and credible dialogue does much in establishing this.
The one time Stockwell veers from his straightforward approach is during the requisite segues that feature blaring pop music. The film credits 30 songs in its repertoire, and at least half of these are force-fed unnecessarily underneath the action. It's during these moments that "crazy/beautiful" feels like a brainless teen flick hard to get away from when Collective Soul and Seven Mary Three are used to punctuate conversations.
One of the reasons the music may have been injected into Phil Hay and Matt Manfredi's screenplay is that there is not a whole lot of momentum to the proceedings. The movie's dramatic moments come from dialogue not actions, and much of the time viewers are left on their own to fill in the words that remain unspoken. (There are clues that Nicole has attempted suicide, such as the minor detail of an oversized watch she wears at all times, implying it covers the scars from where her wrist was slit.)
The 19-year-old Dunst has appeared in more than 30 films in her career some interesting ("The Virgin Suicides," "Mother Night"), some terrible ("Bring It On"), but most simply forgettable ("Dick," "Small Soldiers"). "crazy/beautiful" marks the first time she has ever displayed acting skills of any magnitude. Nicole is a truly difficult character that would be easy to resent or detest if not for how believably Dunst portrays her. She manages to be likable and sympathetic even when her actions are inexcusable.
In the film's most powerful scene, Nicole breaks down after a drunken all-nighter, revealing to both Carlos and her father (and a few policeman for that matter) the depth of her troubles. It's a moment few actresses of Dunst's age could pull off without appearing melodramatic.
Hernandez, who was a regular on MTV's trashy series "Undressed," provides a nice balance to Dunst's showier role. Most importantly, his easygoing nature make the pair's union plausible. (When is the last time a teen movie treated its leads' initial sexual experience as an almost extraneous detail of their relationship? This perfectly fits in with the personalities of these characters.)
Dunst reportedly excised all traces of her first nude scene from the finished version of "crazy/beautiful" after screening it for her mom. Despite this change, the film was still submitted to the Motion Picture Association of America five times before its R rating was reduced to a PG-13. More than likely, the restricted rating has little to do with the nudity or sexuality, but with the utter frankness in how this movie portrays its teen characters. There's the old journalistic saying, "Nothing is more offensive than the truth." And Dunst, Hernandez and Stockwell offend in all the right ways.
Copyright 2018 The Lawrence Journal-World. All rights reserved. This material may not be published, broadcast, rewritten or redistributed. We strive to uphold our values for every story published.