Houston — The father of five children allegedly drowned in the bathtub by their mother said goodbye to them in a hushed church service Wednesday, weeping as he reached into their five white caskets to tuck a blanket beside each little body.
"I'm sorry I didn't get to see you grow up," Russell Yates told Mary, at 6 months the youngest of his lost children.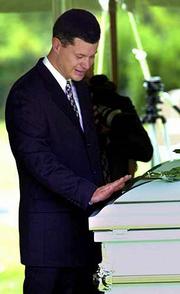 The caskets were arrayed in an arc, each with a ribbon bearing a child's name. After a 75-minute service, the caskets were wheeled slowly from the church and taken to a nearby cemetery, where Yates cried as he touched each one.
The children's mother, Andrea Yates, 36, remained in jail, charged with capital murder and under a 24-hour suicide watch.
Police called to the Yates' suburban Houston home June 20 found the bodies of the four youngest children still wet under a sheet on a bed. The eldest, 7-year-old Noah, was found in the tub.
Yates said his wife of eight years had been suffering from postpartum depression.
The 36-year-old NASA computer specialist struggled at times to describe his children to some 300 people at the Clear Lake Church of Christ. He instead tried to provide a glimpse of each in eulogies that he said were "the hardest thing I've ever had to do."
Wearing a microphone, he moved around the church, his words at times bringing tears and laughter.
Mary, dressed in a pink sleeper, was flanked by her 3-year-old brother Paul and 2-year-old Luke. Noah wore a multicolored sweater emblazoned with a truck, and John, 5, an orange and black sweater.
Noah, Yates said, was intelligent, independent and a lover of bugs; John, all rough-and-tumble with a great smile; Paul, the most well-behaved; Luke, the troublemaker, the one most likely to challenge boundaries; and Mary, the "princess" of the family.
"I was sitting at the dinner table the other night telling stories and that's how I would like to tell you," Yates said. "I tell you every minute I had I was with them. It wasn't like they were just some generic children that happened to be mine. They were my friends."
He went to each casket, pausing before it as a picture of the child appeared on a projection screen behind and above him.
"That's him," Yates said, pointing to the image of Noah as a tear fell from his eye.
Noah once caught a caterpillar that became a butterfly when the family was on a road trip, he recalled. They stopped on the side of the road and let the butterfly go shortly after it emerged from the cocoon. Yates gazed down at Noah: "That is kind of how I look at this. We've set you free."
When he was talking about Mary, he said he couldn't believe his wife had given birth to a girl.
"I thought boys were all we'd ever have," he said. "I told her I wanted a basketball team first, then we'd talk about girls."
But over the last six months, Yates said, Mary became his little princess. "Given this tragedy, I am so glad I had a girl," he said.
Yates said nothing else about his wife. After his remarks, he slipped blankets into each casket.
Posters filled with pictures of the children lined a table in a church hallway. One showed a smiling Noah in the bathtub with wet hair sticking up.
"I don't think there are words in any language that can describe what has happened," said the minister, Byron Fike. "Our hearts are filled with questions, but there are not many answers."
Yates said his children were with God. "He will take care of them," he said.
Quoting unidentified sources, Houston television station KTRK reported earlier this week that Andrea Yates is pregnant. Her defense attorney, George Parnham, told KTRK there's "no evidence to suggest" she's pregnant and since has declined comment, citing a gag order.
Harris County sheriff's Lt. Robert Van Pelt told The Associated Press that all female inmates are given a pregnancy test during a health assessment 14 days into their incarceration. However, a test is given sooner if a woman indicates while being booked that she has health problems, so prescription drugs can be dispensed, he said.
"As far as we are concerned, that is pure rumor," Van Pelt said of the pregnancy speculation. "That would be confidential information anyway."
Houston TV station KPRC reported Tuesday it had learned Yates was not pregnant. The Houston Chronicle said in Wednesday's editions that a pregnancy test proved negative.
In an interview with the online edition of Newsweek, Andrea Yates' brother, Andrew P. Kennedy, said his sister was hospitalized several months ago after attempting suicide at her parent's home.
Kennedy told Newsweek that Andrea held a knife to her throat and threatened to kill herself. He said she was hospitalized at least four times after the suicide attempt.
Copyright 2018 The Associated Press. All rights reserved. This material may not be published, broadcast, rewritten or redistributed. We strive to uphold our values for every story published.