Sapphire Gin might not be out to change the world, but one important corner of it, popular music, is squarely in their sites. "Negativity for the sake of negativity" is what drummer Micah Woulfe hears in abundance these days, and he's not happy about it.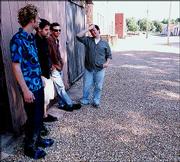 Maybe it's all the classic rock from back in the day the members of the Lawrence based quartet grew up on, but there's a spark and a positive energy missing from much of today's music according to guitarist Tai Vokins.
Vokins and Bassist and high school pal R. Greg Bush recruited Woulfe and Sapphire Gin was formed. All three graduated from the same suburban Kansas City high school in 1998. Later, at Johnson County Community College, Vokin met Englishman Joe Doran in a theatre class he was taking during a year abroad program he'd enrolled in. The two hit it off and though Doran had never sang in public and played no instrument, garnered an invitation to A Sapphire Gin rehearsal on the strength of a lie.
Having yearned for rock stardom since childhood, but with no idea of how to achieve it, Doran seized the opportunity before him by claiming to have been the singer in a Pearl Jam cover band. That was good enough for Vokins and the invitation was made. "It was terrible," recounts Doran, of his first experience at the microphone. "You could tell after one line that he had it," contradicts Vokins." Vokins saw the potential in Doran and the two retreated for some one on one rehearsal. Doran's next foray into the vocal breach was far more comfortable and the band asked him on board.
While the whole band writes, both collectively and individually, the existing catalog of songs had to be retrofitted to the new singer. Rewriting the lyrics is a non-issue, since Doran can't remember them anyhow. No disaster this, Doran's vocal style relies on a good deal of improvisation and stream-of-consciousness. He leans on his muse and lives in the moment. Rest assured that the words to the rock classics the band performs are committed to memory.
Positivity is the watchword. No whiny angst or hand-wringing here, Sapphire Gin means to inspire joy with there music and cites the spirit of upbeat bands like Bare Naked Ladies as inspirations.
Sapphire Gin has taken up a regular Friday night residency at Barley's Brewhaus at I-435 and Midland Drive in Shawnee Kansas and will be performing as the lone rock act on July 8th, the final night of the
Reggae and World Music Festival at Liberty Memorial at Penn Valley Park. Sapphire Gin, hilariously billed in phonetic Jamaican patois as Safiagin. Sapphire Gin will be performing both their own set and backing one of the other artists, Zac Ivry.
Later this summer Sapphire Gin will enter the studio for the first time in Iowa, to record their first, self-distributed release.
For more information, visit their Web site at http://www.sapgin.com.
Copyright 2018 The Lawrence Journal-World. All rights reserved. This material may not be published, broadcast, rewritten or redistributed. We strive to uphold our values for every story published.