When queried about how she became the head baker at Wheatfields at the age of 22, Rita York simply says "I asked." There was a vacancy for a bakery manager and the Johnson County Community College food and beverage management student had already been working at Wheatfields for two years.
JCCC requires it's students to work full time in an establishment with a certified chef while going thrrough their program. York, a Lawrence resident by way of Houston and Wichita had decided to enter their program after initially coming to K.U to study dance.
Having no particular compulsion to become a baker at that time, she took a position in Wheatfields' kitchen because she liked the people and the environment, a sentiment that remains to this day.
York moved from the kitchen to the pastry shop before settling in the bakery. Two years into her tenure at Wheatfields she became head baker and has now managed the bakery for two years.
The 24 year-old York says she plans to stay at Wheatfields at least two more years, while she attends UMKC where she plans to convert her associate degree in food and beverage management into a bachelors degree. After that she'd like to work in some of the other artisan bakeries around the country that constitite the tightly knit community of likeminded establishments. "I'd like to try different styles of baking" says York. Wheatfields specializes in rustic, European breads baked in their unique, wood fired oven
According to York, having been head baker at Wheatfields makes her a known entity to other, similar bakeries, and she also speaks of opening her own bakeryin the future.
York's interest in food has its roots in her family life where good food and an appreciation for its preparation was important. Her father still has thoughts of the family opening a restaurant one day.
Wheatfields is remarkable that in a labor market dominated by college population of service workers with a high turnover rate, everyone on York's staff is a full time emplyee with the exception of several permanant part timers.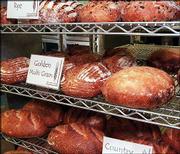 York's work day begins at 4:30 in the morning. Two hours later when the doors open and the regulars line up for fresh, hot bread, the air is filled with the aroma of fresh loaves. Recently, York has changed the schedule of specialty breads that her staff bakes throughout the week in addition to the staples like bagguettes and sour dough bread. This has caused some of her out of town regulars that drive to Lawrence for their bread to adjust their schedules or simply plan more trips to Wheatfields.
The new menu of specialty breads includes some breads baked with grains other than wheat such as the ancient grain known as spelt. While some of these breads are new to York as well as the other bakers at Wheatfields, as York says, "There's nothing scary here, it's just bread."
Copyright 2018 The Lawrence Journal-World. All rights reserved. This material may not be published, broadcast, rewritten or redistributed. We strive to uphold our values for every story published.