Toronto — Tony Batista stuck it to his former team.
Batista, claimed off waivers on Monday, hit a tiebreaking, two-run homer as the Baltimore Orioles beat the Toronto Blue Jays 7-3 Wednesday night.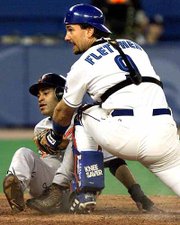 "It was a great day today," Batista said. "It's been a while since I've hit a homer. It look likes I'm going to start to do better."
Batista, who fell out of favor because he hit .207 with Toronto, went 3-for-4 and his homer off Esteban Loaiza (5-8) gave Baltimore a 5-3 lead in the sixth. Batista was cheered as he rounded the bases.
In an effort to counter the Blue Jays' knowledge of him, Batista changed his unorthodox wide open stance to a more traditional stance.
"They know me so I did something different, something crazy and it happened for me," said Batista, who had hit his last homer on May 28. "In a couple of days, I'll go back to my old approach."
The Blue Jays said they risked putting Batista on irrevocable waivers because they wanted to send Batista to the minors so he could rediscover his swing.
"We rolled the dice and we thought we could get him to Triple-A, and maybe he could get straightened out, but it seems as though he's got a little more intensity, and he's swinging the bat pretty well," Toronto manager Buck Martinez said.
Batista, an All-Star who had a career-high 41 homers and 114 RBIs last year, leads the Orioles in homers (14) and RBIs (47).
"I don't know what's going on with the Blue Jays, but he leads us in homers and RBIs," Baltimore starter Jose Mercedes said. "How can you give up on a guy like that?"
Mercedes (4-8) won his third straight start. Mercedes, who retired 15 straight during one stretch, allowed three runs on five hits in 72/3 innings. He struck out two and walked three.
"Everything was working for me," Mercedes said. "I was on a roll."
Baltimore took a 1-0 lead in the second on Loaiza's run-scoring wild pitch.
Darrin Fletcher's sacrifice fly and Chris Woodward's RBI grounder gave Toronto a 2-1 lead in the bottom half of the inning.
Baltimore's Jeff Conine hit a two-run homer in the third to make it 3-2.
Toronto's Raul Mondesi doubled, stole third base, and scored on Mercedes' wild pitch to tie it at 3 in the third.
Loaiza allowed five runs on eight hits in 51/3 innings.
David Segui added a two-run single off Kelvin Escobar in the sixth to give Baltimore a 7-3 lead.
Devil Rays 9, Red Sox 7
Boston Brent Abernathy hit a go-ahead RBI single in the eighth inning as Tampa Bay beat Boston for the first time in 12 tries this season.
Twins 4, White Sox 1
Minneapolis Kyle Lohse scattered three hits over seven innings to earn his first major league victory as Minnesota beat Chicago to move back into first place in the AL Central. Jacque Jones homered for Minnesota, which has a half-game lead in the division after Cleveland's 15-5 loss to New York earlier Wednesday.
Yankees 15, Indians 5
New York Tino Martinez went 4-for-5 with a homer and five RBIs to give some rare run support to Mike Mussina as the New York Yankees beat the Cleveland Indians. The Yankees scored one more run in this game than they had in Mussina's previous six starts. Mussina (8-7), signed to an $88.5 million, six-year contract in the offseason, had been averaging only 3.6 runs of support coming into the game.
Angels 4, Rangers 2
Anaheim, Calif. Bengie Molina, activated from the disabled list before the game, hit an RBI single during a four-run rally in the eighth inning that sent Anaheim over Texas.
Athletics 6, Mariners 3
Seattle Ramon Hernandez hit his first career grand slam and Terrence Long had a two-run homer as the Oakland Athletics beat the Seattle Mariners.
Copyright 2018 The Associated Press. All rights reserved. This material may not be published, broadcast, rewritten or redistributed. We strive to uphold our values for every story published.