Two parents have challenged teaching materials one portraying a devil, the other witches used in Lawrence public schools.
Deerfield School parent Cheryl Swanson said she was troubled "Nature Jungle," an award-winning video documentary, was shown to her second-grade son, August, during a summer school program.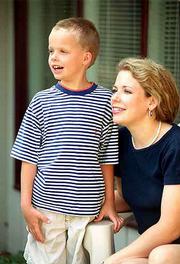 The problem: One sequence in the documentary includes a portrayal of the devil.
"We can't talk about God at school," said Swanson, a Christian. "I didn't figure we had to worry about devil or demon imagery. We can't talk about the good side, but we can talk about the evil side?"
Swanson said she was stunned to learn a video with demonic images was on school shelves.
"I think parents need to be smarter about all this," she said. "It's ugly imagery. I shouldn't have to worry about my child being frightened at school."
Deerfield Principal Suzie Soyster reviewed the video after hearing from Swanson. Soyster said the documentary was more appropriate for children in fourth grade or above.
Soyster also said teachers in the summer program should have reviewed the tape before showing it. They also should have discussed afterward with students the video's jungle themes.
Swanson said she won't push to have the video banned at schools, but she wants school officials to plan alternate activities for her children, if they are to be exposed to images of the devil or demons.
Meanwhile, the district received an official challenge to the 1974 book "Cross Your Fingers, Spit in Your Hat: Superstitions and Other Beliefs" by Alvin Schwartz.
In a request seeking removal of the book from eight Lawrence elementary school libraries, Kennedy School parent Andrea Simpson wrote "Cross Your Fingers" should be withdrawn because it promoted Christian faith and portrayed Wiccans as dangerous.
"Witches would not kill, drive people crazy, make one sick or do any type of spell against anyone," she wrote.
Simpson died June 1 before the district's book review committee issued its report rejecting her request.
Beth Welsh, the district's coordinator of library media services, said the book had explanations of a wide range of superstitions. The list includes love, money, travel and weather.
"There's a lot of literature in the curriculum that deals with this kind of information," Welsh said.
Copyright 2017 The Lawrence Journal-World. All rights reserved. This material may not be published, broadcast, rewritten or redistributed. We strive to uphold our values for every story published.