Elizabeth Marino spent 23 days fasting on a school bus at the United States-Mexico border in 1993 because the U.S. government seized the humanitarian aid she and other volunteers were attempting to take to Cuba.
It's just one example, but it illustrates the insanity of America's "antiquated" economic policy toward Cuba, said Marino, a Pastors for Peace staff member.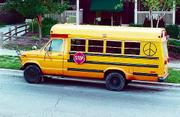 "This policy makes the U.S. look pretty ridiculous internationally," she said
Marino, her 5-year-old daughter, Hayd and three Pastors for Peace volunteers stopped Sunday night in Lawrence for dinner and a solidarity rally at Ecumenical Christian Ministries.
They've been driving in shifts in a school bus since June 16 as part of the 12th U.S.-Cuba Friendshipment Caravan, a challenge to the U.S. government's 41-year-old trade embargo against Cuba.
Volunteers from across the United States, the Caribbean, Canada and Europe are taking the monthlong journey on 11 different routes, stopping at nearly 100 cities to hold educational meetings about Cuba. A hodgepodge of vehicles including buses, box trucks, cars and a 53-foot tractor trailer will transport the activists to San Antonio, where they will converge June 29 before making the final land leg of their trip to Mexico.
Eight of those vehicles including the bus with the peace sign painted on its side that volunteers drove to Lawrence will be shipped to Cuba, along with 50 tons of humanitarian aid. The volunteers will travel by plane to Cuba to talk to experts about alternative energy and participate in a bicycle ride through rural Cuba.
This year's caravan focuses on Cuba's innovations in alternative energy and transportation. Pastors for Peace volunteers will deliver solar panels, batteries and fluorescent lamps to provide alternative energy sources for rural schools and medical clinics.
To put an exclamation point on their message this year, volunteers will stage a "reverse challenge," attempting to deliver aid from Cuba to America when they return July 12.
"Cuba develops some products that are not available to people in the United States," Marino said. Those products include AIDS medications, an anti-cholesterol drug, and Biorat, an environmentally safe poison that kills rats with no risk to humans.
Breeze Luetke-Stahlman, a Kansas University student who participated in the 1999 caravan, went to the ECM Sunday night to show her support for this year's mission.
"I feel the people of Cuba have made decisions that are not being honored," she said. "The blockade is inhumane."
Marino's daughter shared that sentiment.
"I want to go to Cuba so I can help the people there," she said.
Copyright 2018 The Lawrence Journal-World. All rights reserved. This material may not be published, broadcast, rewritten or redistributed. We strive to uphold our values for every story published.