EUGENE, ORE. — Alan Webb is stuck in fifth gear at Hayward Field.
He finished fifth in the mile at the Prefontaine Classic on May 27 and again in the 1,500 meters Saturday in the USA Championships.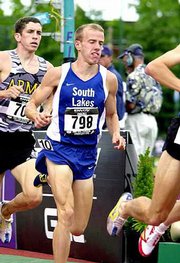 He was proud of both performances, even though they were in sharp contrast to expectations.
At the Prefontaine Classic, Webb ran a stunning race against a high-powered world-class field and broke the scholastic mile record. At the national championships, against a less-talented field, he was the most ballyhooed runner, but his finish was a bit of a letdown.
Still, he was not dismayed.
"I'm glad to be at the top of the field in my event," Webb said. "I proved I could hang in there ... I didn't embarrass myself.
"It wasn't my day."
The much-heralded 18-year-old from Reston, Va., was timed at 3 minutes, 38.50 seconds, the second-fastest ever by a high school runner, behind only the 3:38.26 he ran en route to his mile time of 3:53.43 at the Prefontaine Classic.
But Webb never was in contention Saturday.
Surprisingly, it was Andy Downin's day. Downin, the sixth-place finisher at the 1996 and 2000 Olympic trials and never a winner at a major competition, won the race.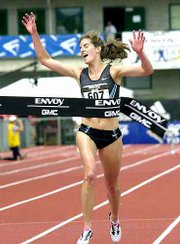 Kansas University's Charlie Gruber placed 11th in the 1,500 in 3:46.4. Also, KU throws coach Doug Reynolds placed sixth in the discus in 202-2. Nike's Adam Setliff won with a throw of 219-4. Gruber and Reynolds do not advance to the world championships.
Bryan Berryhill, the NCAA champion from Colorado State, set the early pace in the 1,500, taking the field through the first 400 meters at 58.3, with Webb last in the 12-man field. Berryhill also led after 800 meters at 1:57.8 as Webb began to move up slowly, reaching ninth place.
Berryhill retained the lead until Olympian Gabe Jennings burst in front starting the final lap, and with 200 meters remaining, Webb was no better than seventh.
He made a last-gasp move down the stretch, but it was too late and he finished nearly one second behind Downin, formerly of Georgetown.
"I plan on being around for a while and a lot more of these," said the Michigan-bound Webb. "I'm looking forward to more battles with these guys. I'll be back. I'm not done yet.
"I'm disappointed. I try to win every race I run. I've got to put a little more heart into it."
Downin, with a final lunge at the tape, finished at 3:37.63, edging 1997 national champion Seneca Lassiter, the runner-up at 3:37.66.
Paul McMullen got up for third at 3:37.94 and Jennings was fourth at 3:38.02. Berryhill wound up seventh at 3:38.66.
"Nobody thought I had a chance except me and my coach," Downin said.
Stacy Dragila, the world indoor and outdoor record-holder in the women's pole vault, won at 15 feet 13*4 inches, breaking the meet and stadium records, then missed three times at 15-7, coming close on all three tries.
Men's javelin thrower Breaux Greer also set meet and stadium records, winning at 279-7, the longest throw by an American this year. Tiombe Hurd smashed the field record in winning the women's triple jump at 46-03*4.
Lisa Nye, a former Oregon runner, thrilled the Hayward Field crowd by breaking the American record in the women's 3,000 steeplechase with a time of 9:49.41. Nye's performance, in an event that will not be contested at the World Championships, shattered the mark of 9:49.73 held by Elizabeth Jackson.
Copyright 2018 The Associated Press. All rights reserved. This material may not be published, broadcast, rewritten or redistributed. We strive to uphold our values for every story published.