Josh Kamerick says the first-ever Kansas Youth Leadership Forum for High School Students with Disabilities has been a huge success.
Kamerick, a Free State High School senior with a learning disability, is one of 33 high school students from across Kansas who are at Kansas University for the conference, which started Tuesday and runs through today.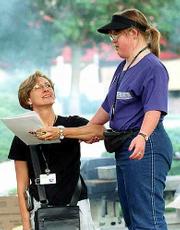 "I've learned my rights here in Kansas for my disability," he said. "I've met all kinds of people. This helped me out a lot, and it will make me a good leader. Everybody who has a disability should get a chance to go through this thing."
The forum was organized by the Kansas Youth Leadership Forum and a group of agencies that work with people with disabilities.
"A lot of it is about self-esteem building," said Brenda Eddy of the Kansas Youth Leadership Forum. "For the first time in their lives, they're part of a majority instead of a minority. They'll be accepted and supported."
A series of presenters many with disabilities themselves have taught the students about such topics as leadership, the history of disabilities, being an advocate and technology resources.
"The purpose of it is to encourage leadership skills and explore career options," Eddy said. "And it's an opportunity to meet other adults with disabilities. There'll be a lot of leadership by example role modeling."
On Thursday, the group traveled to Topeka to meet with lawmakers. The students debated a mock bill that would require insurance agencies to pay for items such as wheelchairs and hearing aids.
Other activities included a barbecue, talent show and dance.
The forum was modeled after a similar program in California, and organizers hope to make it an annual event. The U.S. Department of Labor's Office of Disability Employment Policy provided $10,000 for any state that wanted to replicate the California program.
The Resource Center for Independent Living Inc., Osage City, gave another $80,000 to the project.
Copyright 2018 The Lawrence Journal-World. All rights reserved. This material may not be published, broadcast, rewritten or redistributed. We strive to uphold our values for every story published.