The tamales ran out within an hour Friday, but that didn't spoil opening night of the annual Fiesta Mexicana at St. John the Evangelist Catholic Church.
Hundreds of Lawrence residents continued to dance and throw confetti-filled eggs long after the food disappeared.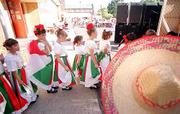 "This is the first time we've had food and music on Friday night," Fiesta chairman Buddy Langford said of the two-day event. "We had a much bigger crowd tonight than we expected."
Volunteers cooked up 2,000 tamales the most popular food item for the weekend. The 750 tamales heated up for Friday sold immediately. Festivities began at 6 p.m., and by 8:30 p.m., hot dogs and tortilla chips were the only food items left.
"First we lost the tamales, then the burritos and then we started losing people in line," Langford said.
Some people complained about the lack of food, but Langford said it is hard for the church's 400 volunteers to keep up with growing demand.
"This started out 20 years ago as a fund-raiser to offset the cost of building another parish, but it's grown into a huge community event," he said. "Now, the money is secondary. Our main goal is to provide a fun event for the community."
Fiesta Mexicana is one of the most anticipated community gatherings of the year, said church member Gary Campbell. He, along with wife Susan and son Joseph, has been attending the party for 12 years.
Missing the event is unthinkable, Susan Campbell said.
"It would be like missing Christmas with the family," she said. "My son used to be one of the kids running around here throwing confetti, and now he's 23 and here with his significant other."
The Rev. Charles Polifka, pastor of St. John's, said Friday was just "a warm-up." About 5,000 people are expected to attend the fiesta over the course of both nights.
"We hope even more people will show up (today)," Langford said. "It's a great opportunity for people to enjoy Mexican food and culture."
Copyright 2018 The Lawrence Journal-World. All rights reserved. This material may not be published, broadcast, rewritten or redistributed. We strive to uphold our values for every story published.