St. Louis — A four-game series split against St. Louis was just fine with the Chicago Cubs.
Jon Lieber won for the fifth time in six starts in a 5-2 victory over Cardinals on Thursday.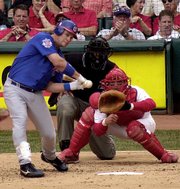 "It's huge," Lieber said after ensuring the Cubs left town with a six-game lead in the NL Central. "We lose the first two, but end up taking the last two and that's a big lift."
Todd Dunwoody hit his first home run in more than a year, and Ricky Gutierrez had a tiebreaking single in the fifth off Andy Benes (6-5) as the Cubs won their second straight in St. Louis following a 13-game losing streak at Busch Stadium.
"My brother and uncle were here, so it's just a neat feeling to get that first one especially against St. Louis, who we're battling tooth and nail," Dunwoody said.
Fernando Vina homered leading off the first, and Craig Paquette had a fourth-inning sacrifice fly for the Cardinals, 5-2 on a 12-game homestand.
Manager Tony La Russa was frustrated that four of the Cubs' five runs came with two outs and with two errors by his defense.
"We had a chance to win the series and made too many mistakes," he said. "There isn't anything else to say about it. I'm not going to spell them all out, you've got to watch the game."
Mark McGwire singled as a pinch hitter in the seventh and played the last two innings at first base.
The game was delayed by rain 52 minutes after two innings.
Lieber (8-4) allowed both runs and seven hits in seven innings, retiring nine of 10 batters after Vina's homer. Lieber, 9-5 against the Cardinals, has a 2.64 ERA his last six starts with only four walks in 441/3 innings.
"Lieber has probably had more rain delays, and he comes back and he's just as sharp," manager Don Baylor said. "He's done that a few times for us."
Tom Gordon worked the ninth for his 11th save in 14 chances.
Benes worked two scoreless innings before the rain delay, then allowed a run each of his last three innings. He gave up four hits, walked five and struck out six.
"The rain didn't affect their pitcher," Benes said. "We pitched better than them the first two days and they pitched better than we did the last two days."
Vina hit Lieber's first pitch over the right-field wall for his fifth career leadoff homer and sixth straight leadoff hit against the Cubs. He also singled in the fifth, making him 8-for-18 in the series and 16-for-39 (.410) against the Cubs this year with 11 of his 23 RBIs.
"It's fun to play the top teams," Vina said.
Pinch-hitter Rondell White's RBI double off Steve Kline in the eighth made it 4-2, and Gutierrez added an RBI single in the ninth. Ron Coomer had an RBI single in the third.
Cardinals catcher Eli Marrero left after six innings with a sprained left thumb after a Mike Timlin pitch glanced off his glove.
Marlins 3, Braves 2
Atlanta Pinch-hitter Derrek Lee hit a two-out, two-run homer in the ninth off Atlanta's John Rocker, giving Florida a victory over the Braves. Kevin Millar fouled off two 3-2 pitches before drawing a one-out walk. Charles Johnson nearly hit into a game-ending double play but barely beat the relay throw on a bad-hop grounder. Lee then connected, only the fourth blown save in 23 chances for Rocker (2-2). Braden Looper (3-2) got his second win in the four-game series and Antonio Alfonseca pitched the ninth for his 16th save.
Giants 8, Padres 3
San Diego Marvin Benard, playing left field because Barry Bonds took a day off, homered along with Ramon Martinez. San Diego's infield committed four throwing errors and Bobby Jones (3-10) allowed six runs four earned in 51/3 innings.
Expos 10, Mets 3
New York Vladimir Guerrero and Jose Vidro homered to stop New York's season-high four-game winning streak and Montreal's three-game skid. Guerrero's two-run homer put the Expos ahead for good at 4-3 in third inning. Matt Blank (2-2) helped himself with a fifth-inning double and an RBI single in a four-run sixth.
Phillies 6, Pirates 3
Pittsburgh Jason Kendall's third error in two nights set up a go-ahead Philadelphia sixth inning as the Phillies opened a 41/2-game lead over Atlanta in the NL East. Pirates starter Jimmy Anderson (4-7) walked Bobby Abreu and Scott Rolen, who then worked a double steal. Kendall, back at catcher after two nights in the outfield, threw wildly on the play as Abreu came home. Rolen, running on contact, then scored to make it 4-3, beating first baseman Craig Wilson's throw home on Travis Lee's one-out grounder. Robert Person (5-5) allowed three runs, two earned, in five innings.
Reds 8, Astros 7,
11 innings
Houston In a game featuring an Enron Field-record nine homers, Ken Griffey Jr. singled home the go-ahead run in the 11th inning as Cincinnati beat Houston. Michael Tucker homered twice for the Reds. Pitcher Danny Graves and Sean Casey also connected for Cincinnati. Craig Biggio, Jeff Bagwell and Richard Hidalgo homered in the first inning for Houston. Lance Berkman hit two homers for the Astros.
Diamondbacks 14, Rockies 5
Denver Mike Hampton (9-3) gave up eight runs and eight hits in three innings as Colorado lost to Arizona. The loss, Colorado's fourth straight, dropped the Rockies eight games behind first-place Arizona in the NL West. Luis Gonzalez hit his 31st home run, a grand slam off Gabe White in the seventh.
Copyright 2018 The Associated Press. All rights reserved. This material may not be published, broadcast, rewritten or redistributed. We strive to uphold our values for every story published.