The scandalous, tell-all rock bio should be a staple of any rock fan's diet. Even if it's an occasional treat, there's nothing more satisfying than sinking your teeth into a sordid account of car crashes, drugs, infighting, touring, groupies and other sundries of rock life. Of course, if the subject is Paul Simon, you probably won't find much of the above. Conversely, if the topic is My Crhose recently published autobiography, "The Dirt," made a surprising debut at No. 8 on The New York Times bestsellers list you'll get all that plus a bag of chips.
"The Dirt" is a literary carnival of breakups, shakedowns and bad hair days, offering more than enough tawdry details to gratify even the most depraved metal minds. Packed into its 430 pages are amusing anecdotes such as Ozzy snorting lines of live ants and drinking puddles of urine ("He didn't just flick it with his tongue, he took a half-dozen long, lingering, and thorough strokes, like a cat."), David Lee Roth hogging all the coke, Ray Manzarek swilling all the booze ("If Ray was that big of a fiend, how bad was Jim Morrison?"), Vanity puffing away at the freebase pipe, Axl Rose looking for a fight and, of course, enough blonde ambition including that of Lita Ford, Heather Thomas, Pamela Anderson and others to fill the Playboy mansion a couple times over.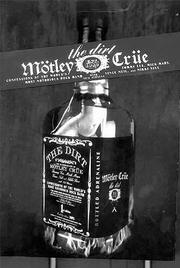 Then there are the run-ins with police, parents, customs officials, bassist Nikki Sixx's various overdoses, the drunken driving accident that landed vocalist Vince Neil in prison for manslaughter, drummer Tommy Lee's various jail stints for domestic abuse and the debt and lack of self-esteem that continues to plague guitarist Mick Mars.
Ultimately, what makes "The Dirt" interesting isn't numerous tales of ODs, home-made porn or groupie shagging; most of the book's better moments come unexpectedly: The mid-'90s firing of Neil and the struggle to allow his replacement, John Corabi, proper time to connect with fans offer a candid peek behind the curtains of major-label rock. (The Crecord company refused to release any more records unless Corabi was let go and Neil rehired. The remaining band members complied against their wishes and still can't stand the constantly golfing/race-car driving Neil.)
Then there's Sixx's surprisingly gripping assessment of his struggle with heroin; Mars' revelation that an incurable, degenerative back disease caused his hunched-over appearance and appetite for alcohol (he claims to have shrunk more than 3 inches since high-school and spends most of his days in excruciating pain); and Neil's agonizing account of his daughter's battle with cancer, which took the 6-year-old's life after two years of chemotherapy and repeated surgeries.
Lee's recent decision to leave the band after 20 years because he wasn't feeling the music anymore provides an honest look at why My's material has fared so poorly in the last decade, and how quickly the band latched onto trends like grunge and electronica, with predictably dismal results. Also, kudos to the Cr letting supporting characters like Corabi, A&R; rep Tom Zutaut and former manager Doc McGhee have their say, even when it's almost wholly negative.
The less-than-fascinating sections include Lee's on-again/off-again marriage to Anderson (a dead horse that was beaten to death long ago), the band's alleged predilection for fist-fights (hard to swallow) and the numerous breakdowns and sob-fests that seem to show up every few pages. (Apparently, when the Crw isn't beating someone up, they're crying hysterically about their lives.)
"The Dirt's" most glaring omission, though, is a surprising lack of attention paid to the band's music. Granted, My Cr never produced much in the way of memorable tunes, but you'd think that at least the group would take its own catalog a little more seriously. After all, few could deny that Lee is one of metal's truly great drummers or that the quartet's 1980 self-released debut was chock full of trashy gutter rock that still holds up today.
Soon after, of course, the Crally lost the plot, issuing a stream of cringe-inducing lite-metal that owed more to the power balladry of Poison and Bon Jovi than the glam rock of Sweet or Mott the Hoople. To their credit, the My members are quick to admit that records like "Theatre of Pain" and "Girls, Girls, Girls," were complete throwaways made by a band that didn't care one bit about its music anymore. Regardless, you'd think My would offer more insight into the making of its albums, rather than merely recounting the number of groupies who were sexed up in the studio during the recording of a particular number.
Still, you won't find a guiltier pleasure on your summer reading list, and you certainly won't ever want to know anything else about the self-proclaimed "world's most notorious band" ants or no ants.
Copyright 2018 The Lawrence Journal-World. All rights reserved. This material may not be published, broadcast, rewritten or redistributed. We strive to uphold our values for every story published.