Rain, rain go away.
That would be the plea on this first day of summer by Judy Smith, postmaster in Muscotah, where residents recorded 11.5 inches of rain in about six hours.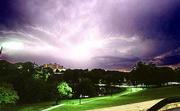 "It poured all day (Tuesday) and all evening," she said. "It just rained so hard. It was unbelievable that it could last that long."
That heavy rainfall had downstream effects close to Lawrence.
Muscotah, in Atchison County, is in the drainage basin that feeds into Stranger Creek and the Delaware River, both of which dump into the Kansas River.
Though the waters of Delaware River and Stranger Creek overflowed their banks Wednesday in nearby towns and covered county roads in northeast Kansas, it wasn't quite a recurrence of the flood of July 1993.
Back then, the precipitation started in the fall and winter of 1992 and was followed by spring rains and a lot of thunderstorms in June and July, said Brian Walawender, a meteorologist with the National Weather Service in Topeka.
"The reservoirs were full in '93; that's not the situation we're having right now," he said. "Ninety-three was something that was built over nine months, not just one big rain event."
Walawender said rainfall Tuesday was much heavier north of Lawrence. For example, from 7 a.m. Tuesday to 7 a.m. Wednesday, NWS recorded 3.77 inches in Oskaloosa, 4.07 inches in Atchison, 5.51 inches in Leavenworth and 8.75 inches in Effingham. That contrasts with the 3.16 inches measured on Campfire Drive in Lawrence by weather spotter Wayne Borgers.
Walawender said most of the water north of Lawrence went into the Delaware River and Perry Lake. The Kansas River at the Bowersock Dam measured 13 feet of water, which is 5 feet below flood stage.
"There's no reason to worry, at least not right now," Walawender said about the prospects of the Kaw flooding.
Walawender's prognostication notwithstanding, Lt. Gov. Gary Sherrer on Wednesday declared a disaster emergency for Leavenworth, Atchison, Jackson and Jefferson counties. Some roads, crops, homes and businesses in low-lying areas in the region sustained damage, and the potential for more rainfall exists, Sherrer said.
The disaster declaration allows emergency officials to more easily access state resources to respond to flooding, Sherrer said. Gov. Bill Graves this week is in France, and Sherrer is acting in Graves' absence.
By mid-afternoon Wednesday, Stranger Creek's waters near Tonganoxie had climbed to 25.2 feet, about three feet above flood stage.
In Easton, which sits right along the creek in northern Leavenworth County, water filled several downtown streets, said Melvin Sewell, the county's road and bridge supervisor.
"I've been told Easton is a lot worse than what it was during the flood in the '50s," he said.
High waters prompted the county's Public Works Department to close many of the main roads, including Kansas Highways 92 and 192
"This is the worse we've seen in a long time," Sewell said.
In Douglas County, Keith Browning, director of Public Works, said the only reports of flooding were in low-water crossings, lowest points in a valley where water tends to collect, throughout the county.
If anything, Browning said, the rainfall helped raise the level of Lone Star Lake about one foot to 948.2 feet. He said the ideal level would be 948.5 feet so the lake's dredging project could be finished quicker.
"If it comes up any higher, then we'll have to let some of the water out," he said.
Copyright 2018 The Lawrence Journal-World. All rights reserved. This material may not be published, broadcast, rewritten or redistributed. We strive to uphold our values for every story published.