Wichita — The U.S. Department of Agriculture quarantined another Texas county Tuesday after wheat seed at a grain elevator tested positive for Karnal bunt.
The latest finding at a terminal in Archer County heightened fears in Kansas, where growers were already worried about the wheat quarantine imposed in Throckmorton and Young counties at the southernmost edge of the nation's wheat belt just as the harvest was moving north.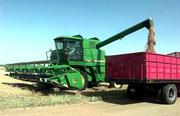 "It doesn't really surprise me; if they keep looking, they are going to find more and more," said Brett Myers, executive vice president of the Kansas Wheat Growers Assn.
While Karnal bunt is harmless to people, flour made from infected kernels is discolored and has a bad odor and taste.
The main effect is economic: 80 countries ban imports of wheat grown in infested regions. Half of the hard red wheat grown in the United States is exported.
Oklahoma immediately quarantined its borders, turning away combines coming in from Throckmorton and Young counties unless they had USDA certificates proving they had been disinfected.
"Oklahoma was very aggressive in addressing it," said Lisa Taylor, spokeswoman for the Kansas Department of Agriculture. "We were hopeful they intersected these people."
For its part, Kansas urged its farmers to check where the custom harvesters had been before letting them onto their fields without a USDA cleanliness certification.
But nobody has been checking the combines coming from Archer County, a county directly north of Young County.
As of Tuesday, USDA's Animal and Plant Health Inspection Service had tested 150 wheat fields in Throckmorton and Young counties and found 10 percent of them contaminated with the Karnal bunt fungus, said Charles Schwalbe, director of APHIS' plant protection and quarantine program.
The agency has also quarantined one terminal elevator in Fort Worth that received infected grain, and is considering whether to quarantine a second one.
APHIS inspectors found Karnal bunt in four out of the five bins at the Archer County elevator. The entire county was quarantined.
Schwalbe said USDA also was pursuing leads on infected seed that has been transported to several Texas counties.
Cool, rainy weather has created ideal conditions this spring for Karnal bunt.
Its discovery in Young and Throckmorton counties on May 31 marked the first time the fungus had been found in the nation's wheat belt, an area generally extending north from central Texas to Alberta, Canada.
The fungus first showed up in the United States in 1996, and had been confined in California, New Mexico, Arizona and southern Texas.
Copyright 2018 The Associated Press. All rights reserved. This material may not be published, broadcast, rewritten or redistributed. We strive to uphold our values for every story published.