Vieques, Puerto Rico — Some sneak onto the bombing range by boat. Others don camouflage and use the cover of night to cut through fences.
The idea is to halt bombing practice on Vieques island and being arrested is part of the deal, even for the nephew of President Kennedy and the wife of the Rev. Jesse Jackson.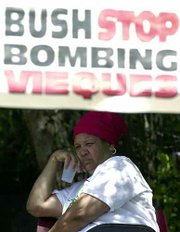 "We are not violent criminals even though we have endured the act of shackles and have been treated as common criminals," an indignant Jacqueline Jackson told a federal judge Tuesday. She was jailed because she refused to pay $3,000 bail.
Activists working to end the U.S. Navy's six decades of bombing exercises on Vieques claim their peaceful guerrilla tactics succeeded in repeatedly pausing the military maneuvers and contributed to President Bush's surprise announcement last week that the Navy must withdraw in two years.
"The people of Vieques have defeated the most powerful military apparatus in the history of humanity," activist leader Robert Rabin said Tuesday.
Another protest leader, Ismael Guadalupe, said the Navy wasn't bombing Tuesday because protesters were on its prized firing range a claim the Navy quickly disputed.
"Our courage has turned Vieques into a world stage of peaceful protest," Guadalupe said.
The cause lately has drawn celebrities like Jackson and environmental lawyer Robert Kennedy Jr. to back charges that the bombing harms the environment and health of islanders. The Navy denies that and describes as unscientific local studies that claim Vieques residents suffer a higher incidence of cancer and other ills.
Actor Edward James Olmos and the Rev. Al Sharpton were among 180 people arrested during exercises in late April and early May. Sharpton has been on a hunger strike in a New York jail since May 29, and dozens of Puerto Rican protesters also are still in jail.
On Monday, as Navy jets dropped dummy bombs, Jackson walked through a quarter-mile of thick underbrush and woods to breach a Navy fence. She was arrested soon afterward.
Protesters say they want to reach the 900-acre beachside bombing range that is on 12,000 acres the Navy owns on the eastern end of the island. The Navy land is protected by a nine-mile arc of fencing that is regularly cut and then repaired.
Copyright 2018 The Associated Press. All rights reserved. This material may not be published, broadcast, rewritten or redistributed. We strive to uphold our values for every story published.