Siren, Wis. — Hundreds of people picked through rubble and toured their ravaged homes and businesses Tuesday, the day after a tornado killed three people and leveled most of this close-knit northwestern Wisconsin community.
"I grew up here. Siren is my town. And it's gone," said Faith Raska, 31, whose two-story home looked more like a giant dollhouse with an entire side blown away.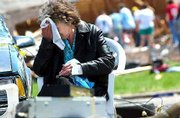 Evidence of the tornado was everywhere. Trees 2 feet wide were uprooted, snapped in half and toppled onto houses and buildings. People stood in dazed clusters in areas where their neighborhoods used to be. The Auto Stop, a popular downtown gas station, was missing.
"It looks like the end of a war movie," said Darren Van Blaricom of the Amery Fire Department. "There's not enough adjectives to explain how bad the damage is."
Sixteen people were hurt, and one remained hospitalized with minor injuries late Tuesday. Three older residents were killed. The tornado, which struck at 8:20 p.m. Monday with wind speeds of 158 mph to 206 mph, damaged about 200 homes in Siren, a village of 900 people about 65 miles northeast of the Twin Cities.
Forty businesses were damaged or destroyed, undoing much of the progress and redevelopment the community had made the last four years, Police Chief Dean Roland said. Residents had little time to prepare for the tornado because the village emergency siren broke about a month ago, when it was struck by lightning.
As Roland was driving near the west edge of the village, however, he stopped his patrol car and witnessed something he had never seen. Clouds from two different directions collided and then began to rotate. Billboards, trees and other items flew through the air, and Roland felt his car being lifted by wind in the back. "I never saw the funnel. I saw this massive white cloud that was just spewing debris. That's when I knew we were in trouble," he said.
Copyright 2018 The Lawrence Journal-World. All rights reserved. This material may not be published, broadcast, rewritten or redistributed. We strive to uphold our values for every story published.